The ruler in the Kremlin has nothing to worry about: the empire is recovering. Western sanctions hardly harm Russia. About this newspaper "Frankfurter Rundschau", referring to the opinion of eminent experts.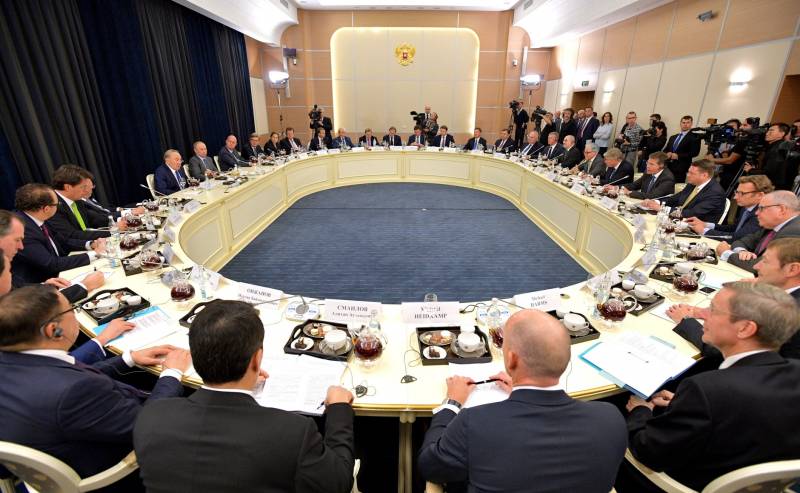 Meeting with representatives of business circles of Germany. A photo:
kremlin.ru
On Thursday, V. Putin met with representatives of the German economy, recalls Stephan Kaufmann in the newspaper
"Frankfurter Rundschau"
(Fr.de). Discussed issues of trade and investment.
The Kaufmann material states that Western restrictive measures "did not harm the Russian economy": the latter "is already being restored." However, trade restrictions interfere with "some EU countries."
The Russian economy is recovering, including thanks to oil prices, which have risen to a two-year maximum. Inflation declined by 3,3 percent - and this is "a record level in post-Soviet Russia." The International Monetary Fund forecasts economic growth in Russia in 1,8 and 1,6% (current and next years), and this is after –0,2% in 2016!
"Despite the policy of Western sanctions, there is little cause for alarm," say economists at Raiffeisen Capital Management.
On the other hand, the economies of "some EU countries" were "hard hit", the author of the article is sad. Between 2014 and 2016 The total volume of EU exports to Russia declined by 15,7% per year (calculated by the economic institute Wifo, Austria). In real terms, exports shrank from 120 to 72 billion euros. According to the data of Wifo, up to 40, the percent reduction is associated with sanctions against the Russian Federation. Cyprus was particularly affected by the reduction: its exports fell by almost 35% of the sanctions. Among the other main "losers" are Greece (minus 23%) and Croatia (minus 21%).
German exports to Russia have not decreased so much. Nevertheless, in absolute terms, the German economy recorded the "greatest loss", the author points out: according to Wifo, sanctions cost the Germans almost 11 billion euros per year! Germany accounts for about one third of the total export reduction associated with EU sanctions.
Poland and the UK lost three billion euros each.
Today, German-Russian trade is growing again, despite the sanctions. Last year, its volume amounted to 48 billion euros ("only" half as much as a few years ago). According to the Eastern Committee of the German economy, in the first five months of 2017, trade volume grew by almost a third. In general, for the year in the Eastern Committee, he expects to increase exports by 20 percent.
Herr Kaufmann, we note, is full of optimism. And there is a reason for this: Germany, badly affected by the "pan-European" sanctions against Russia, is now increasing trade volumes. Following the "Putin Empire", the German economy is recovering, for which export is the most important component of national welfare.
Observed and commented on Oleg Chuvakin
- especially for topwar.ru