Today, an unofficial visit to the main base of the Russian Pacific Fleet in Vladivostok arrived a detachment of Japanese warships. We are talking about two warships of the Japanese National Self-Defense Forces. This is the Kashima training ship and the Harusame destroyer. Representatives of the Pacific
fleet
We met the arrival of Japanese ships with an orchestral performance of Katyusha, as well as music from the animated film Captain Vrungel and other works. It is reported
city ​​portal
Vladivostok.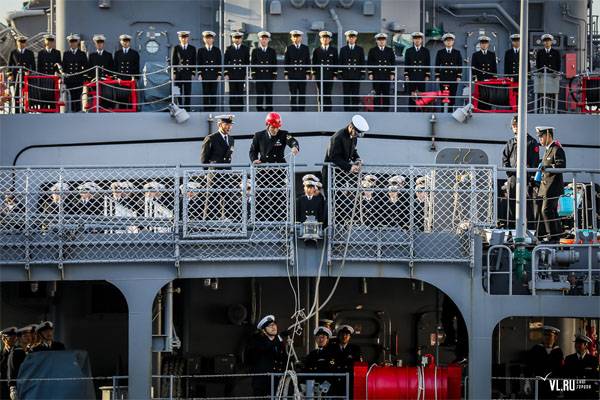 Japanese sailors, who came down to the Russian coast, were greeted, according to the Russian tradition, with bread and salt.
The solemn construction of the naval formations of the Russian Federation and Japan was held to the sounds of the hymns of both states.
The last time Japanese warships called at Vladivostok about 3's years ago.
From the statement of the commander of the training squadron of Japan, Rear Admiral Koji Manabe:
Long-haul we carry out annually. Their goal is to develop navigational skills among cadets and young officers, expanding the international horizon, as well as deepening mutual understanding with residents of the countries visited, through cultural and sports events.
The Japanese ship squadron will spend five days in Russia, during which it will take part in table tennis, volleyball and football tournaments. Japanese sailors will also visit the Mariinsky Scene.
The plans of the Japanese command, visiting during the long march 13 ports in eight countries in the Asia-Pacific region.