Builders on Friday announced the completion of the marine technological operation for the installation of a road arch of the transport crossing through the Kerch Strait. Reports about it
information Center
"Crimean bridge".
The maritime operation to install the road arch of the Crimean Bridge is completed. The arch is raised on the fairway pillars and securely fixed at the design height - 35 meters from the water
- said in a statement.
In connection with the completion of the operation, the navigation closed in the Kerch Strait, which was closed during the installation of the arch, was resumed ahead of time.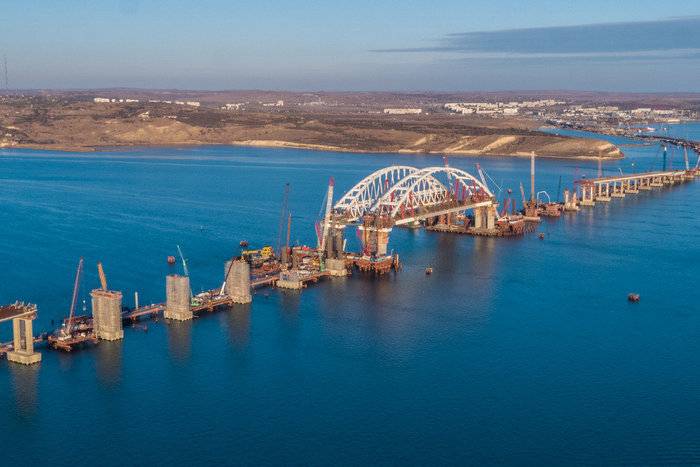 At noon, shipping in the Kerch-Yenikalsky Canal resumed as usual - 18 hours ahead of schedule
- clarified in the information center.
Leonid Ryzhenkin, Deputy Director General for Infrastructure Projects of Stroygazmontazh LLC, said that the builders performed the operation in 54 hours instead of the hours assigned to 72.
We took into account the experience of the first naval operation - on the installation of the railway arch, and the rafting of the road arch was carried out much faster: instead of the allotted 72, the hours were packed in the 54 hours. That is a little more than two days
- given in the message the words Ryzhenkina.
In total, more than 150 sailors and builders took part in the naval operation. Now the arch is securely fixed by the so-called "wind ties", and the final assembly on the fairway supports will last until mid-November. During this time, the builders will assemble the end elements of the overall design and will put on special elements - supporting parts.
According to Arkady Rotenberg, chairman of the board of directors of the company Stroygazmontazh, after installing two arches, one can already speak of a good temporary backlog in the construction of the bridge. And in the first quarter of 2018, a single bridge bed will be formed between the banks of the Kerch Strait.