At the exhibition "Zbroya ta bezpeka-2017" an additional package of documents was signed concerning the supply of tactical communications systems of VHF to Turkish production to the Armed Forces of Ukraine, reports
bmpd
with reference to the blog of Diana Mikhailova.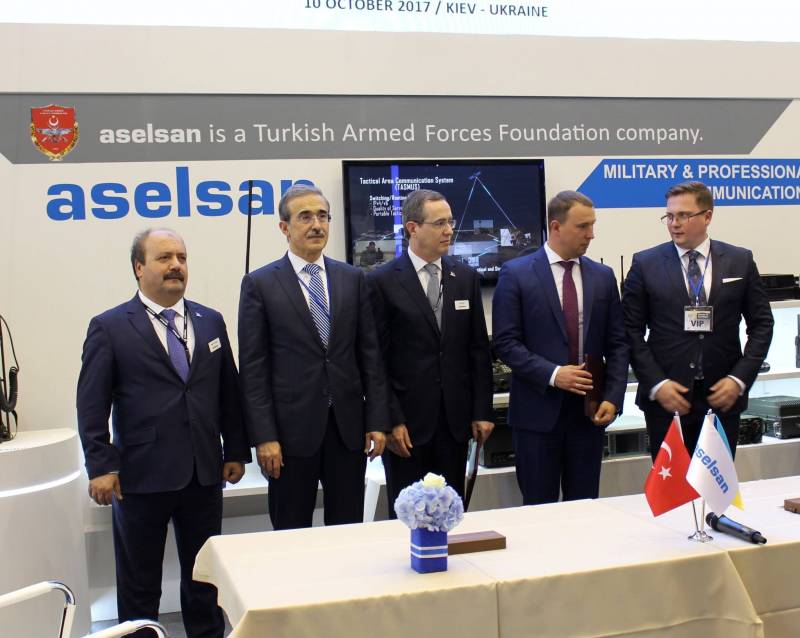 The contract for the supply of Turkish equipment under the state guarantees of the Ukrainian government was signed between the acceptance of "Spetstechnoexport" and Aselsan in Kiev during the visit of Turkish President Recep Erdoогan to Ukraine.
On Tuesday, Aselsan informed about the signing of an agreement with a Ukrainian client on the purchase of communication systems in the amount of $ 9 million by October 43,635. According to the information, deliveries will be made in 2018 year. The completion of the transaction is expected before the end of 2017, "after the signing of the loan agreement between the Ministry of Finance of Ukraine and Tureximbank, with which agreements on work under the state guarantee of Ukraine at a minimum percentage have been reached."
"VHF radio stations from Aselsan became winners in comparative tests, which ended in the Ukrainian Armed Forces. Turkish communications are designed and manufactured to meet NATO requirements and standards. In terms of its technical capabilities, as well as on the "cost-effectiveness" criterion, the 9661 series of radio stations turned out to be the best both in terms of establishing a stable connection and in terms of its ability to work under the influence of powerful EW facilities, "the material says.
It is reported that the first contract 2016 of the year with the company Aselsan provided for the supply of communication systems to equip one battalion. Under the second contract from 2017, the army will receive additional equipment to complete the brigade.
Aselsan has also pledged to introduce DMR mode into the VHF military stations, which will ensure that Motorola radio stations work together with Aselsan radio stations. This feature is currently undergoing testing.