The Turkish news agency Anadolu publishes sensational information in fact. The material confirms the intentions of official Ankara to send Turkish troops to Syria. We are talking about the nomination of the Turkish contingent in the Syrian province of Idlib.
For several weeks, the Turkish army concentrated forces and funds on one of the sections of the Turkish-Syrian border. According to some reports, we are talking about several battalions of the Turkish army and special forces of the armed forces of the country.
Anadolu
reports that advanced intelligence units actually crossed the border a few days ago and are now carrying out reconnaissance activities in the so-called de-escalation zone in the Syrian province of Idlib.
From the material in the Turkish media referring to the General Staff of the Turkish Armed Forces:
The operation was carried out with the aim of creating zones of control over compliance with the security regime in northwest Syria. Troop intelligence operates in the province of Idlib from October 8.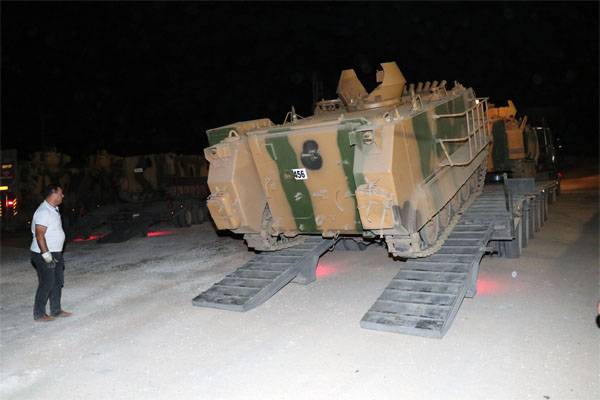 At the same time, it is emphasized that the Turkish military in the Syrian Arab Republic were on the basis of agreements reached in Astana. It was then decided that the Turkish troops could take up monitoring of the so-called internal perimeter of de-escalation zones in Idlib, and the Russian military police would focus on monitoring the external perimeters.
About how many Turkish troops are already in Syria, at the moment it is not reported.