The Ukrainian government has decided to allocate 100 million hryvnia ($ 3,76 million at the current rate) to enhance the security of ammunition depots after a series of explosions at the arsenal in the Vinnitsa region. Such a decision was made at a meeting of the cabinet on Wednesday at the initiative of the head of the Ministry of Defense of the country Stepan Poltorak.
It is proposed to your attention a draft order regarding the allocation of funds for the implementation of measures related to improving the level of protection of the ammunition storage facilities of the Armed Forces of Ukraine in order to allocate funds from the reserve fund in the amount of 100 million (hryvnia)
- said Poltorak. The government members unanimously supported this decision.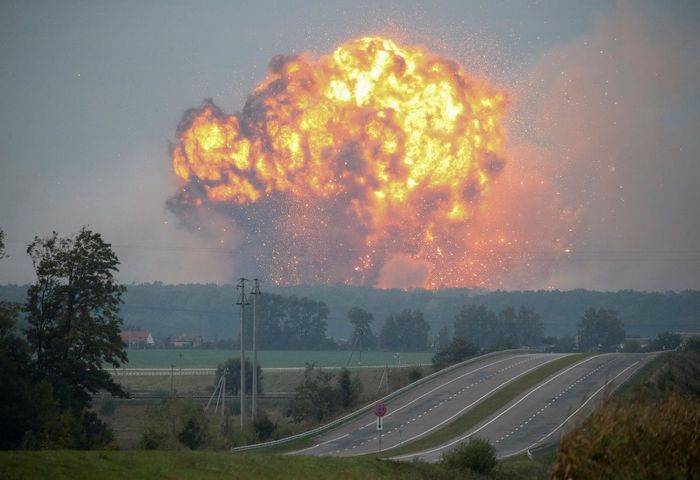 September 26 in the ammunition depot in Kalinovka Vinnitsa region there was the largest fire, which led to a series of powerful explosions, which stopped only on October 3. Two people suffered from shell fragments, about 30 thousand residents had to be evacuated from the danger zone. According to the General Staff of the Armed Forces of Ukraine, in warehouses where about 83 thousand tons of ammunition were stored, including Smerch, Uragan and Grad rocket systems, up to a third of the stocks were destroyed. Pre-damage from PE is estimated at $ 800 million.
This state of emergency is the third this year in the warehouses of the Ministry of Defense. In September, a fire broke out on the territory of a military unit in Nikolsky district of Donetsk region. In March, a fire occurred at 65-m missile and artillery arsenal in Balakley (Kharkiv region), where 70 percent of ammunition was destroyed, reports
TASS
.