The road arch of the bridge across the Kerch Strait was taken to the fairway of the Kerch-Yenikalsky Canal, then pulled up on cables to the installation site on supports, the Crimean Bridge information center reported.
The arch weighing more than five thousand tons was moved on floating supports using tugboats. Transportation began early on Wednesday morning. The movement of ships and ships in the channel of the Kerch Strait is closed for 72 hours.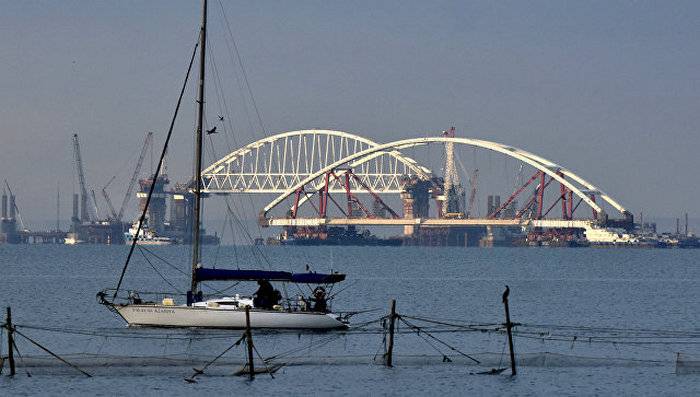 Early in the morning the floating supports left the "scoop" near the Kerch technological platform and are now on the fairway of the Kerch-Yenikalsky channel
- told in the information center.
Sailors are preparing for the next many hours of the operation. Floating supports with arched span will lead into the alignment between the fairway supports of the bridge. This distance is of the order of 300 meters - the floating system will be "tightened" with the help of pile anchors, anchor cables and other equipment. The total gap between the arch and the supports will not exceed 65 centimeters.
Structurally, the road arch differs from the already established railway: the connection of the lower belt with the arch is provided by flexible suspensions - solid ropes with a thickness of six centimeters of a closed construction, made of high-strength steel wire. While they are not stretched, therefore during transportation and installation the arch geometry is supported by auxiliary elements - stops. They are dismantled after the arch takes the design position on the fairway, passes
RIA News