Modern heavy military armored vehicles can immediately overcome the sandy shores, marshes and swamps. This opportunity will provide a multi-purpose mechanized complex operational deployment of temporary roads KVD, created by JSC TechPromImport, reported
News
.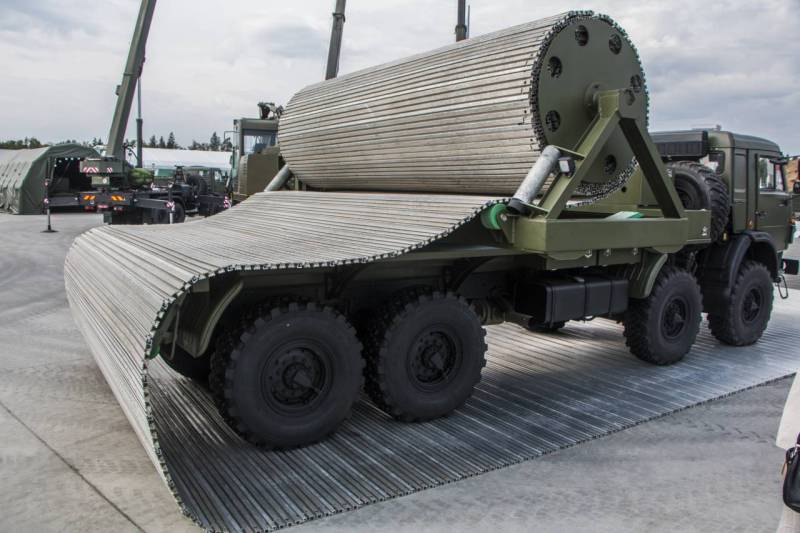 "KVD is built on the chassis of a four-axle high-performance KamAZ-63501 vehicle. A swivel mechanism with a roll of aluminum web with a special polymer coating is placed in the body. With the help of an electric motor, it is spread in the direction of traffic. And it just turns off after passing a column of heavy machinery. If 100 m of the roadway is not enough, the road can be infinitely increased by additional sections. At the same time, pieces of linen will be fastened with special locks, "the material says.
Road withstand
Tanks
, infantry fighting vehicles and other equipment weighing up to 60 tons, it does not matter what is under it: wet sand, a quagmire or Arctic swampy soil. It is reported that "during the tests, a heavy equipment column immediately crossed a swamp of 2 m depth. Moreover, the track withstood more than 160 passes of tracked vehicles and remained intact."
The Defense Ministry noted that "the KVD is planned to be used as part of the PP-2005M pontoon parks that come into service with the Russian army from the 2014 of the year."
The car has already passed the stage of preliminary tests at the sites of the Ministry of Defense. In November, we enter the final tests, after which the issue of its adoption will be decided. We hope that this will happen before the end of the year,
told the technical director of "TechPromImport" Rashid Nurmukhamedov.