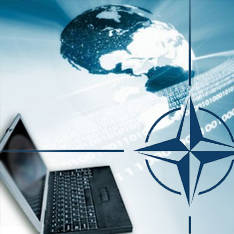 The North Atlantic Treaty Organization is considering the use of military force against enemies who are organizing cyber attacks against member states of the Alliance, writes The Sunday Times. At the same time, from this point of view, Russia and China are considered the most dangerous countries.
Recommendations on the use of the Armed Forces against the organizers of the cyber cracks were put forward by a group of experts of the Alliance headed by former US Secretary of State Madeleine Albright. "The next attack on the NATO countries will follow by fiber optic cable," the report says.
The document notes that cyber-terrorism, which is a danger to infrastructure, is comparable to an armed attack, and therefore requires an appropriate response. "A large-scale cyber attack on NATO's control systems or energy servers is fully capable of using response measures in accordance with paragraph 5 of the North Atlantic Alliance bylaws," experts say. Recall that this article states that an "armed attack" on one or several NATO countries "is considered as an attack on all members of the Alliance."
Members of the bloc are unanimous in repulsing cyber-terrorism, sources in the Alliance say. "For the first time, extensive discussions on this issue began after the Estonian events. After a comprehensive investigation, we had evidence that Russia was connected with these attacks. At the same time, NATO was unanimous in its condemnation of this operation," a senior official told GZT.ru. organization. "Today, when the threat of hacker attacks has become even more serious, we need a general scheme: how the Alliance should react to such computer operations. It must be emphasized that attacks can come not only from the governments of any countries, but also from terrorist organizations or criminal groups, "he said.
"Most of the NATO member countries came to the conclusion that control over cyberspace should be an important task for national security. And now, logically, the Alliance should create its own bodies to protect its computer communications," the diplomat added.
Recall, for the first time, cyber threats to NATO were involved in 2007, when computers of Estonian government agencies were attacked. This led to the shutdown of multiple servers and serious interruptions in communication. Computer experts said that the attack was conducted from Russia. 2008 was followed by a similar hacking of Georgian computers. Suspicions then fell again on the Russian Federation, and the Kremlin was directly accused of organizing a cyber attack. And last week, the commission on attacks on the Pentagon system came to the conclusion that, in this case, the organizer of the hacker hacking was China.
However, a number of experts of the Alliance warn that it is almost impossible to prove the involvement of governments in cyber attacks, and too harsh retaliatory measures can lead to a deterioration in international relations.