Today in the Alexander Hall of the Grand Kremlin Palace, Russian President Vladimir Putin has received credentials of twenty new heads of diplomatic missions. Among them was present and the new American ambassador to Russia, John Huntsman, who replaced the post of US ambassador to Russia, John Tefft, who holds this position with 2014 year.
Khanstman was one of the last to hand over documents to Putin.
Ambassador Extraordinary and Plenipotentiary of the United States of America to the Russian Federation John Mead Huntsman
- announced the announcer.
Then the Russian leader and Huntsman shook hands and turned to the rest of the diplomats.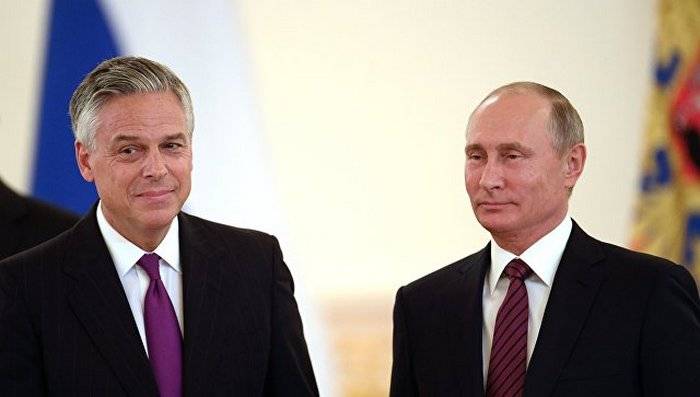 Commenting on the appointment of Huntsman, the Kremlin expressed the hope that he would contribute to the "restoration" of Russia-US relations "from the damage that Washington did to them."
Presidential spokesman Dmitry Peskov recalled that Putin is a "consistent supporter of reanimation" of relations between Russia and the United States. The President believes that improving relations between Moscow and Washington will benefit the whole world, noted Peskov.
Credentials - a document required for accreditation in a foreign country, which is issued to diplomats of the highest level. Upon arrival in the country, the ambassador sends a copy of credentials to the Foreign Ministry and proceeds to work. Official ceremonies for the presentation of credentials to the head of state are usually held every few months. After this, the work of ambassadors and permanent representatives of international organizations acquires full official status, reports
RIA News
.