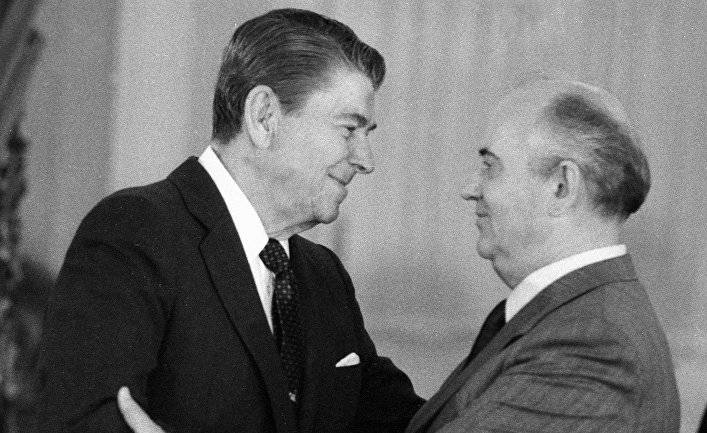 It seems that the anti-Russian / anti-Soviet bias of the American media knows no boundaries. It would seem that they should have enough self-awareness and journalistic integrity to think about their reputation. But the lie continues to flow in a continuous stream, it accumulates, and the mountains of this lie are becoming higher.
One of the latest examples of this kind was the review of Mikhail Gorbachev's new biography in the New York Times Book Review (September 10). It says that Gorbachev was not a hero to his own people, because he destroyed his empire. Using this technique, the New York Times Book Review does not say anything positive about life in the Soviet Union and about socialism. This publication wants to convince the reader that the Russian people were upset because of the loss of such countries as Czechoslovakia, Hungary, and not at all because of the decline in living standards during the years of Gorbachev's perestroika, which affected everything: rent, employment, vacation, on health care, education and many other aspects of the Soviet socially oriented state.
This review is accompanied by a quote from a review of Gorbachev's memoirs, which appeared on the pages of the New York Times Book Review in 1996 year. The quotation reads: "People in the West are perplexed by the fact that Mikhail Gorbachev is despised, hated, and ridiculed by his own people. This man took the world away from the brink of a nuclear abyss, freed his compatriots from suffocating fear, put an end to the bloody military adventure and gave freedom to Eastern Europe. However, in Russia he was rejected, and he was rejected cruelly and finally. In June, he tried to return to the political scene, but scored less than 1% of the vote. "
Thus, Gorbachev's unpopularity among his own people was brought into the category of mysteries, forgetting that it was the result of profound social changes.
It should be noted here that USA Today wrote in the 1999 year: "When the Berlin Wall fell (1989 year), East Germany imagined a free life where an abundance of consumer goods reigned without difficulties and deprivations. 10 years passed, and 51's percentage of East Germans claim they were happier under communism. " If a survey on this topic had been conducted earlier, such people probably would have been more than 51 percent, because over the past 10 years many of those who have fondly recalled life in East Germany have already died.
It took another 10 years, and the Washington Post reported in 2009: "Residents of West Berlin say they're nostalgic for the Eastern neighbors to talk about the times of communism with nostalgia." It was after the unification of Germany that a new Russian and Eastern European proverb appeared: "Everything that the Communists said about communism turned out to be a lie; but everything they said about capitalism turned out to be true. "
In the new review of the New York Times Book Review, Vladimir Putin is twice called the authoritarian leader, as most of the Western media regularly does. In recent years, I have met a large number of such characteristics, but in none of them have I found examples confirming such an authoritarian policy. Although examples of this kind definitely exist, not only in relation to Putin, but also in relation to a man by the name of Trump, a woman by the name of May, and also for any other head of state in the world. But if there were real evidence of Putin's authoritarianism, the Western media would certainly lead them in their attacks on the Russian president. Why don't they do this?
Putin's reviews are then referred to as "the former lieutenant colonel of the KGB with a cold eye." It remains to be wondered why the New York Times Book Review has never called President George W. Bush a former CIA director with a cold eye.
As in the years of the first cold war, one of the main problems is that it is difficult for Americans to believe in the benevolence of the Russians. In this regard, I would like to recall what was written about one of the most distinguished American diplomats, George Kennan:
Driving through the winter of 1933 in Poland along with the first US diplomatic mission to the Soviet Union, a young American diplomat named Kennan heard with amazement the story of Soviet Foreign Minister Maxim Litvinov accompanying them about how he grew up in a nearby village about reading their books, about how in childhood he dreamed of becoming a librarian.
"Suddenly, we realized, at least, I realized that the people with whom we are dealing are the same human beings as ourselves," Kennan wrote. - That they were born somewhere, that in their childhood, like us, they had dreams and aspirations. For a brief moment, it seemed to me that we could break through the wall of mistrust and embrace these people. "
However, this has not happened so far.
In connection with the memories of Kennan, George Orwell's statement comes to mind: "We have come to the fact that the first duty of smart people was to confirm the obvious."
William Bloom is the author of Killing Hope: US Military and CIA Interventions Since World War II. His new book is called America's Deadliest Export: Democracy (America's Deadliest Export: Democracy).