The new combat vehicle of the Russian armed forces "Terminator" has sizzling firepower, it is difficult to stop. About this in the material for publication
Popular Mechanics
Wrote American military analyst Kyle Mizokami.
According to experts, the need to create a separate armored vehicle to support
tanks
was dictated by combat experience in Afghanistan and the North Caucasus. Tanks of the Soviet and later period, for example, the T-72, were intended to defeat the counterparts of NATO countries, but were virtually defenseless against anti-tank systems. Even experienced crews were not able to save the situation, since their visibility was very limited.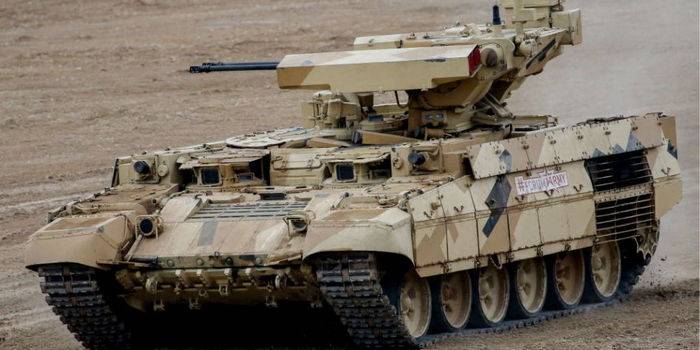 According to the developers, Mizoki writes, the Terminator should be on the battlefield along with the main tanks and clear it, eliminating threats. For this task, the armored vehicle has an impressive arsenal that allows firing at everything that moves and shoots.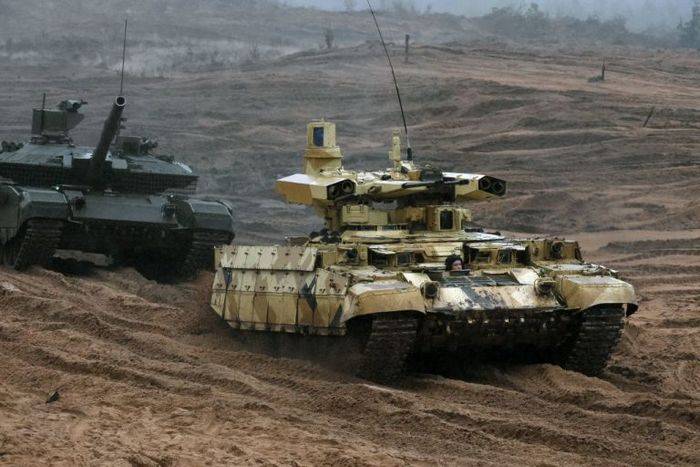 In the basic version, it is equipped with two 30-mm automatic guns 2А42 and two PKTM 7,62 machine guns mm. With their help, the probable and identified anti-tank positions are suppressed, which allows the crews of the main tanks to concentrate on "working off" the enemy's armored vehicles. In addition to anti-personnel weapons, BMPT is equipped with four launchers of 9М120 "Attack" missiles with a laser guidance system capable of hitting tanks or helicopters at a distance of 6 kilometers. As noted Mizokami, there are versions of the "Attack" with thermobaric warhead.
"Terminator" is very difficult to hit, as it is made on the platform of the T-90A tank and has about the same level of armor protection. In addition, the machine is equipped with a complex of dynamic protection, which enhances its survivability even with the strongest opposition.
The US Army has no equivalent to the "Terminator." In fact, no other army possesses such machines. American vehicles - M1 Abrams tanks and M2 Bradley infantry fighting vehicles - showed good performance in urban areas in Iraq. It remains unclear why the Russian army has a special tool to support the tanks, perhaps they invented something
- concludes the expert