Speaking from the podium of the UN General Assembly, the President of Ukraine announced that he was calling for the early introduction of peacekeepers in the Donbass. As you know, Poroshenko's initiative differs from Vladimir Putin's initiative in that the Ukrainian president "is going to introduce" an armed mission to the border of Donbass with Russia, and the Russian president is talking about entering the UN peacekeepers along the line of contact. At the same time, Moscow notes that the main task of the UN peacekeepers will be the protection of a special monitoring mission of the OSCE, which is monitoring the implementation of the conditions of the Minsk agreements.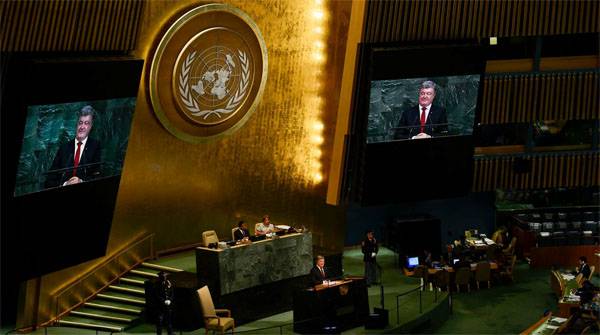 In addition, the Russian side notes that people are not dying on the border of Donbass with Russia, but along the line of contact of the Ukrainian forces with LDNR forces.
Poroshenko turned to the UN Secretary General with a proposal to send to Ukraine "a special mission for technical assessments." How many more missions from various international organizations need Poroshenko to ultimately decide to stop the bloodshed during the civil war?
German Foreign Minister Sigmar Gabriel said that the territory of the future peacekeeping mission should not be limited to the protection of the OSCE SMM. According to Gabriel, the mission "should be extended to the whole Donbass".
Recall that in New York Poroshenko arrived with Russian passports and military tickets, once again announcing the "Russian military aggression."