On the podium of the UN General Assembly for the first time as the President of the United States rose Donald Trump. His speech was full of the usual pathos for Trump and over-the-edge inappropriate expression. One of the parts of his speech was devoted to the crisis on the Korean Peninsula. Trump's statement leads
RIA News
:
The United States has a lot of patience, the United States is strong, but if we are forced to defend or defend our allies, we will have no choice but to completely destroy North Korea. The Rocket Man (as Trump now calls Kim Jong-un) performs the suicide mission for himself and his regime. The US is ready, willing and able (to destroy the DPRK), but they hope that it will not be necessary.
Further, Trump said that the DPRK will "save" only the abandonment of its nuclear missile program.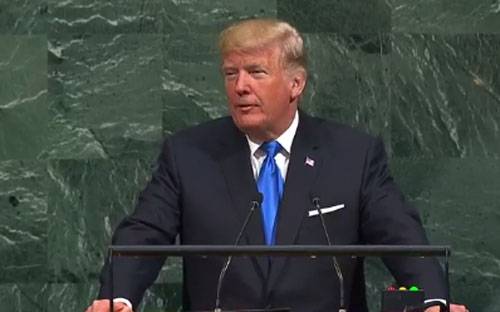 At the same time, Trump also appealed to the United Nations to influence the DPRK. According to Trump, he is "grateful to Russia and China" for supporting the sanctions and immediately added that the Organization "should put even more pressure on the North Korean regime."
But the "North Korean regime" wants one thing - to leave the North American regime alone, which "on the fingers" and ballistic missiles is trying to explain to both Trump himself and the entire pro-American conglomerate.
Ivanka have already shown photos of "suffering North Korean children"? ..