Russian Defense Ministry spokesman, Major General Igor Konashenkov, called on the international coalition led by the United States and the opposition supported by it not to interfere with the actions of the Syrian government forces to combat terrorists.
The nearer the end of ISIS * is in Syria, the more obvious is who is really fighting ISIS * and who has been imitating it for three years. Therefore, if the international coalition led by the United States does not want to fight terrorism in Syria, then at least it does not interfere with those who do it continuously and effectively
- he said.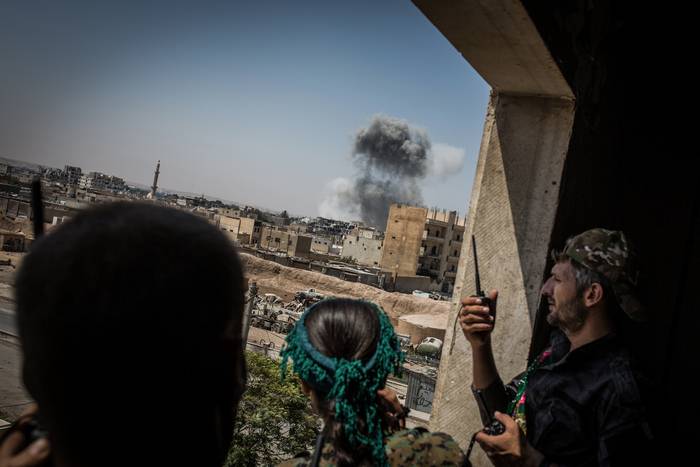 Konashenkov noted that within a day, the assault units of the Syrian government troops, with the support of the Russian Aerospace Forces, forcing the Euphrates, continued to expand the captured bridgehead east of Deir ez-Zor. The troops, in spite of the stubborn resistance of the Islamic State militants *, succeeded in freeing more than 60 square kilometers of territory on the left bank of the river from terrorists.
At the same time, he noted that counterattacks from the area where the opposition formations and US special forces units are being held against the Syrian troops.
According to reports from Syrian commanders from the front line, the most serious counterattacks and massive fire on Syrian troops are recorded from the north. That is, where the formations of the Syrian Democratic Forces are located, as well as units of US special operations forces, which, instead of releasing Raqqi, allegedly "provide" these militants with "medical assistance" (CNN quote)
- said Konashenkov, adding that one does not need to have great military knowledge to see the pattern in all these "coincidences".
The man-made discharge of water on the Euphrates dams held by opposition forces creates an obstacle to the advancement of Syrian government forces in the Deir ez-Zor area. Thus, during the day the water situation on the Euphrates became significantly complicated. As soon as the Syrian troops began to force the river, the water level rose in a matter of hours in the Euphrates. And the flow rate doubled - to 2 m / s
- He said.
Konashenkov indicated that, in the absence of precipitation, the only source of changes in the water level is man-made discharge on dams to the north of the Euphrates. These objects are at the "opposition formations controlled by the" international coalition "led by the United States," the general said, reports
TASS
.
ISIS * is a terrorist organization banned in Russia