Another "fight" with the participation of "ATO veteran" took place on the territory of Ukraine. And again the representative of the Ukrainian natsbat mated with the driver of public transport. The incident occurred in the Dnieper area of ​​the city of Zaporozhye. Local portal
061.ua
reports that the participant "ATO" tried to drive free of charge, presenting his ID. The driver of the shuttle bus said that he could not put the "veteran of the antiterrorist operation" free of charge for the reason that all privileged places in the minibus were already taken and that the man was very drunk.
At first, a verbal skirmish ensued, and then a fight, as a result of which the driver was injured. He was diagnosed with a fracture of the nose, numerous soft tissue injuries. In the hospital, the 35-year-old driver sutured his lip. Suffered and "veteran ATO." On his face - abrasions.
The Zaporozhye Department of Transport declares that another hooliganism, in which the so-called ATO participant participated, was in a state of intoxication.
The management called the name "veteran". It turned out to be a certain Andrei-Svyatoslav Hrushevsky. At least that's what the protocol says.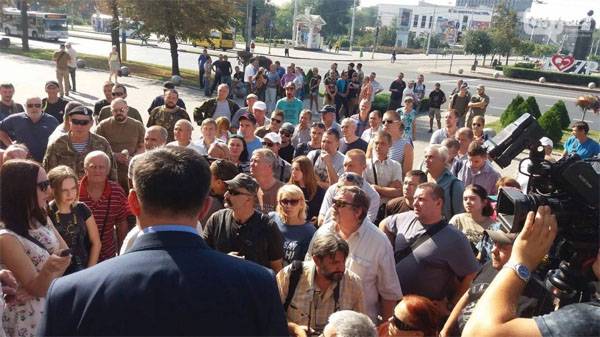 Zaporizhzhya representatives of the national battalions decided to hold a rally near the building of the local city council. The main requirement for the deputies of the City Council: to accept the document on the free transportation of all "veterans of the ATO." The city council noted that such a document actually exists, but it can not regulate in any way the number of preferential places in the fixed-route taxis that carry the transport on behalf of a private enterprise. Moreover, the document does not provide for the transportation of drunken representatives of the national battalions.
About two dozen "veterans" and their family members took part in the rally.