The Syrian army, with the support of the Russian Aerospace Forces, liberated about 90 square meters. kilometers of territory in the central part of the country. Previously, these territories were occupied by terrorists of the so-called "Islamic State" (* prohibited in the Russian Federation). We are talking about the eastern part of the province of Homs.
Informational portal
AMN
reports that in the course of advancing the Syrian government army, at least 14 settlements were freed from igilovtsev. 6 dominating in the heights territories previously held by the "jihadists" passed under the control of the CAA.
It is reported that the advanced units of the Syrian troops crossed the Euphrates. The crossing of the Euphrates was carried out in the province of Deir ez-Zor.
It should be noted that in the direction occupied by the Syrian troops bridgehead on the banks of the Euphrates move columns of armed groups supported by the United States. First of all, we are talking about armed Kurdish troops.
The commanders of Kurdish troops say they will not allow the Syrian army to move the front beyond the Euphrates. At the same time, the official Ankara publishes a statement by the representative of the General Staff of the Turkish Armed Forces that Kurdish armed groups should not cross the Euphrates, which "must be defined as the main line of demarcation".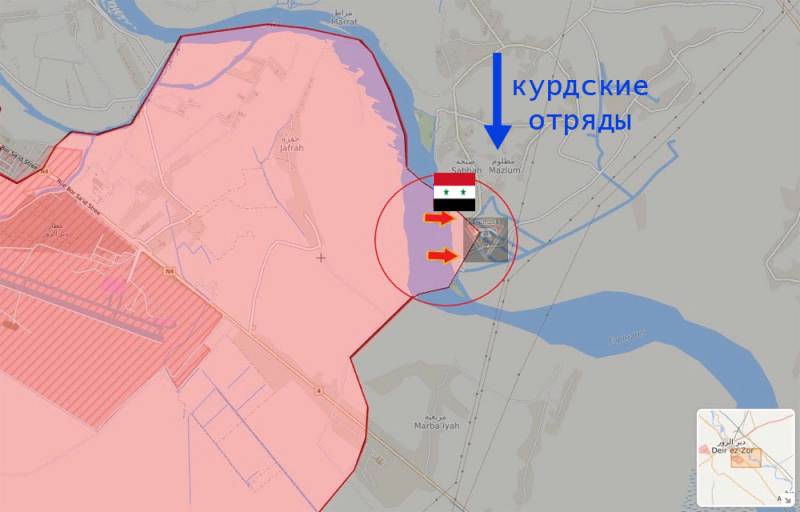 Damascus said they are ready to fight any forces that impede the restoration of the constitutional order throughout the entire territory of the SAR, including forces supported by the United States.