The Central Bank of the Russian Federation continues to purchase gold, replenishing gold and foreign exchange reserves with this precious metal. It should be stated that the purchase of gold by the Bank of Russia has been going on for the seventh month in a row. Since the beginning of this year, the country's gold reserves increased by more than 114 tons. The statistics of the Central Bank of the Russian Federation is such that the total volume of the gold reserve of the Russian Federation is almost 1,73 thousand tons of precious metals.
According to this indicator, the Russian Federation is in the 7-th place in the world, if the IMF is also included in the number of accumulators of the gold reserve. The three leaders in terms of gold reserves (excluding the IMF) include: the United States with a reserve of about 8,15 thousand tons, Germany - 3,37 thousand tons and Italy - 2,45 thousand tons.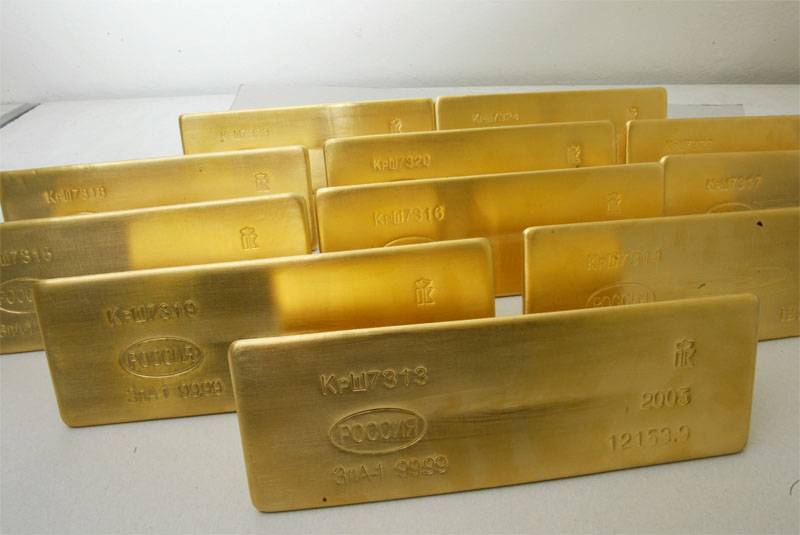 At the same time, a number of independent economic experts are inclined to believe that the US gold reserves are fiction. Recently, the American Fed has virtually completely closed access to an audit of gold and foreign exchange reserves, which gave food for thought about the real volumes of American gold reserves that did not correspond to the declared ones.
By the way, for the first time in the
stories
country debt exceeded the bar 20 trillion dollars.
For reference: Azerbaijan has become the leader in sales of gold reserves in recent months. Monthly sales are estimated at 3 tons of precious metal.