In Poland, a new infantry combat vehicle was developed to replace the outdated BWP-1 (Polish version of the Soviet BMP-1). According to the portal defense-blog.com, at the MSPO 2017 exhibition, taking place these days in the city of Kielce, the company Huta Stalowa Wola presented the BMP Borsuk.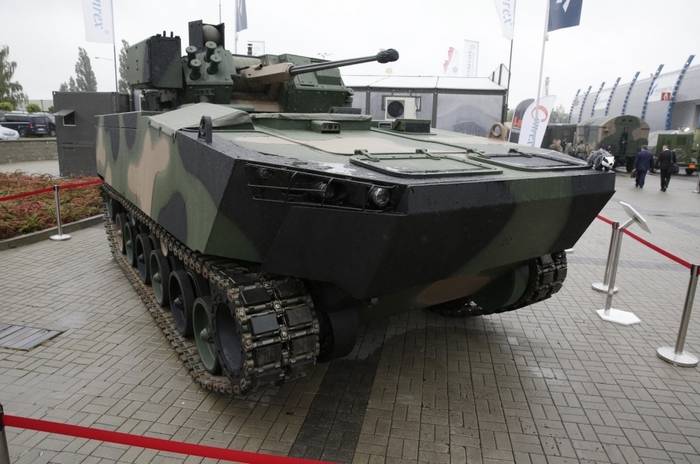 The machine is developed in the framework of the same program based on the modular tracked platform UMPG. According to the requirements of the Ministry of Defense of Poland, the prospective infantry fighting vehicle must be floating, have an unmanned turret, arm an 30 – 40-mm automatic cannon and several Israeli-made Spike anti-tank missile systems.
The first prototype of the BMP Borsuk was presented at the MSPO 2017 exhibition - according to the stated specifications, it meets the requirements of the military department. So, the new machine is equipped with a ZSSW-30 uninhabited combat module with an 30-mm automatic cannon and a launcher for two Spike anti-tank missiles.
The car is planned to be produced in two versions: in a lightweight, amphibious version, the BMP will weigh up to 25 T, the heavy "assault" version is on the order of 30 T. with. On the basis of the new BMP, engineering and command modifications will be developed, as well as self-propelled 800-mm mortars and medical machines.
In addition, heavier fire support combat vehicles (the first prototype was already demonstrated under the name PL-01) are being developed on the basis of the UMPG caterpillar platform as part of the Gepard program, which should eventually replace
Tanks
T-72 Soviet-made, reports
"Warspot"