The Chief Rocket and Artillery Directorate of the Ministry of Defense of the Russian Federation presented information on the Army 2017 system of modular missile charges created as part of the development of a set of main-use shots for the promising interspecific Coalition 152-mm artillery complex, reports
bmpd
.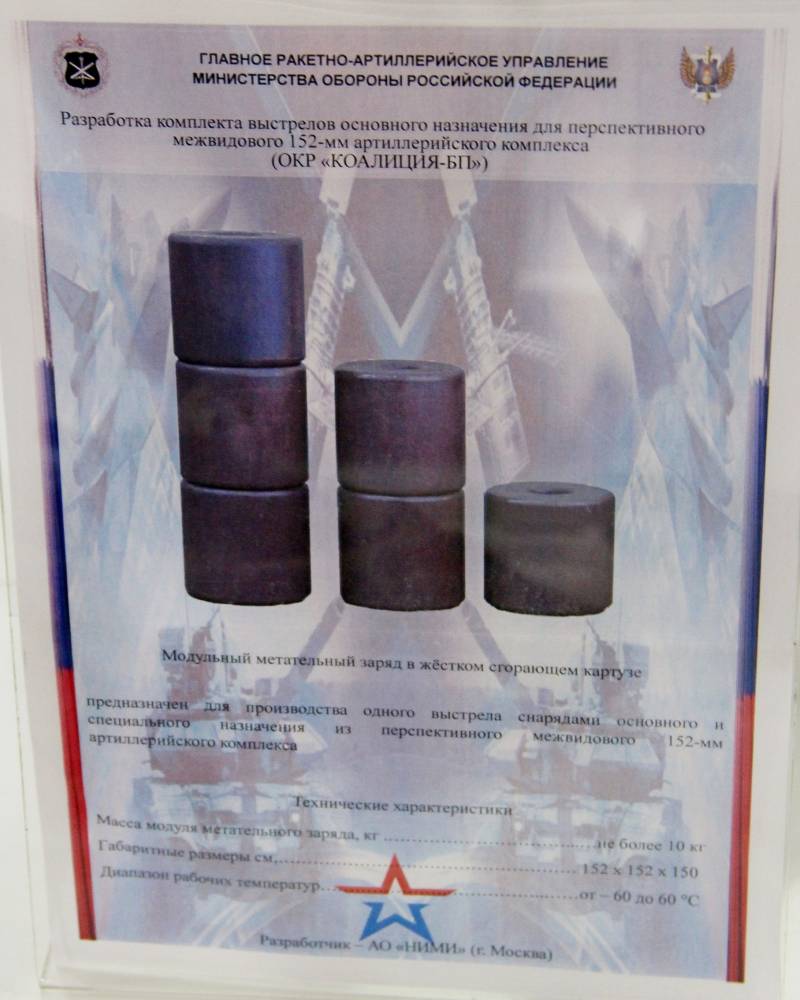 The 152-mm shot with the concrete-concrete projectile 3-XXNX, created within the framework of the same OCD, was also presented. It is designed to defeat field fortifications and other fortifications, infrastructure and rear.
According to the developers, the shot consists of the 3Г4 projectile, a ground fuse, a full variable modular propellant 4-З-27, an electric shock tube TV-UED-3 (3КВХNUMX).
Description:
"The shot consists of a projectile 3Г4 with a screwed-in bottom fuse, a full variable modular propellant charge 4-З-27 and an electric shock tube. Before screwing in the fuse, the point is closed with a blank stopper.
The 3Г4 projectile consists of a body with a floating copper lead ring, a ballistic tip, a bursting charge, a screw bottom and a threaded ring.
The body of the projectile steel, with a solid head. The ballistic tip is fixed to the body by means of a thread. In the bottom part of the body there is a chamber in which the explosive charge is placed. The explosive charge is closed by a screw bottom, over which a threaded ring is screwed. A lead gasket is inserted between the screw bottom and the casing to protect the explosive charge from the effects of powder gases.
The bottom fuse is screwed into the screw point of the screw bottom. A lead gasket is also inserted between the fuse flange and the screw bottom. "


152-mm concrete shell 3Г4, created in the framework of the ROC "Coalition-BP"