Moldova has asked the UN to include the issue of the withdrawal of Russian peacekeepers from Transnistria on the agenda of the 72 session of the General Assembly (GA), which will begin on 12 September. In a letter published Tuesday by the Permanent Representative of Moldova to the world organization Victor Moraru, it is argued that the presence of the Russian military "is a threat to the maintenance of international peace and security," reports
TASS
The Government of the Republic of Moldova, in accordance with Article 11 of the Charter of the United Nations, requests that the issue of the complete withdrawal of these foreign armed forces from its territory be included in the agenda of the seventy-second session of the General Assembly as a separate item
- wrote a diplomat. He asked the UN to support efforts aimed at completing the process of "unconditional, orderly and complete withdrawal of foreign armed forces from its national territory."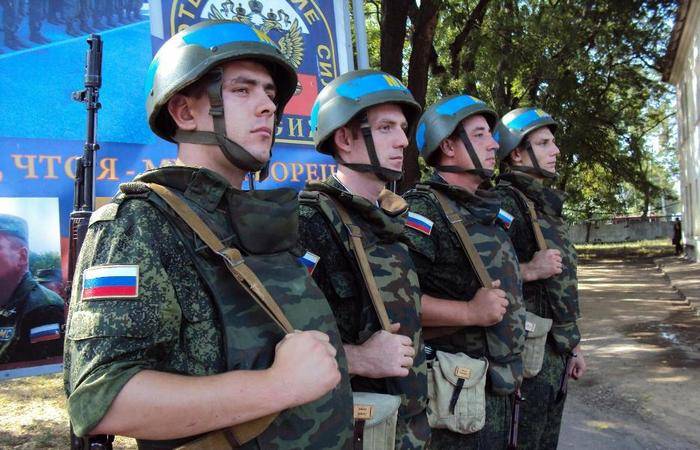 Moraru brought an excerpt from the declaration of the Organization for Security and Cooperation in Europe, adopted in 1999, which welcomed the "commitment of the Russian Federation to complete the withdrawal of Russian forces from the territory of Moldova by the end of 2002 of the year".
This is not the first statement about the withdrawal of Russian peacekeepers from Transnistria. Earlier, in 2015, the then Prime Minister of Moldova Valeriu Strelets, speaking at the jubilee session of the UN General Assembly, stated that the official Chisinau insists on the speedy withdrawal of Russian peacekeepers from Moldovan territory.
The Russian peacekeepers were entered into the zone of the Transnistrian conflict according to the agreement signed with Moldova "On the principles of the peaceful settlement of the armed conflict in the Transnistrian region of the Republic of Moldova" of July 21 1992. They stopped the fighting between the Moldovan police and the Transnistrian militia, and also neutralized the armed formations and marauders who had gotten out of control.
At present, the Russian military maintain peace in the region along with the blue helmets of Moldova and Transdniestria. Their task also includes the protection of military warehouses, which store more than 20 thousand tons of ammunition, brought here after the withdrawal of Soviet troops from European countries. But the disposal and removal of 2001 that started in the year were blocked by Transnistrian authorities in 2004 after the aggravation of relations between the two banks of the Dniester. Today, Russian peacekeepers in Transnistria have actually found themselves in a blockade after Ukraine blocked the supply through its territory.