According to the press service of the holding NPO Splav, which specializes in the development and production of multiple launch rocket systems, the TON-1A heavy flame-throwing system Solneptek will be improved, reports
RNS
.
The TOC-1A is being upgraded. Major changes will affect the ammunition. It is planned to significantly improve the accuracy and range of fire. In addition, the wheeled chassis will be used
- said in a statement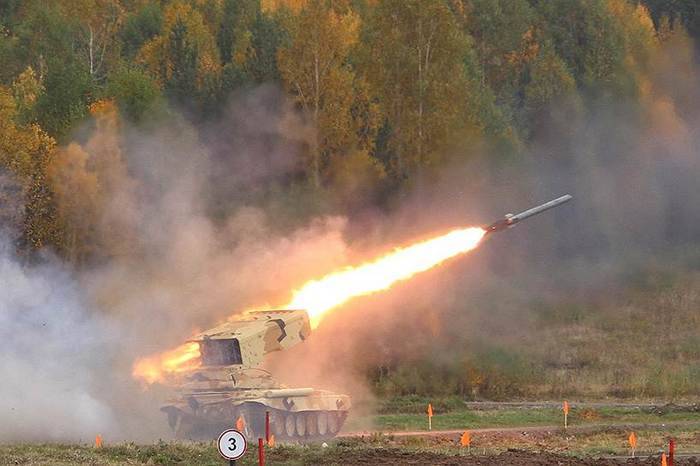 "Solntsepek" created on the basis of
tank
T-72, which houses a platform with a package of 24 guide tubes for rockets. The system is intended for fire support of infantry and tanks, destruction of enemy manpower, open and closed firing positions in various types of offensive and defensive combat, as well as for the destruction of lightly armored vehicles and vehicles.
Firing is conducted by unguided rockets of caliber 220 mm at a distance of 6 km. Released ammunition is undermined at the surface of the target, as a result of which the explosive contained in it mixes with air and ignites. Occurs detonating volumetric detonation. The resulting main damaging factors - high-temperature field and shock wave - spread over an area up to 40 thousand square meters. meters
NPO "Splav" developed multiple launch rocket systems in the interests of the Ground Forces, Navy, VKS (Grad, Uragan, Smerch, Tornado-G, TOC-1А, Udav-1М, " Fire "," Dam "). Products of JSC "Splav" "adopted by more than 50 countries.