Information agency Reuters, citing sources in the police of Barcelona, ​​writes that, probably, the terrorist who was driving the van that hit people was not alone. From the capital of Catalonia come alarming reports of shooting in the Rambla area, where a terrorist crushed people with the wheels of his car. The report says that unknown persons opened fire at a restaurant in the center of Barcelona.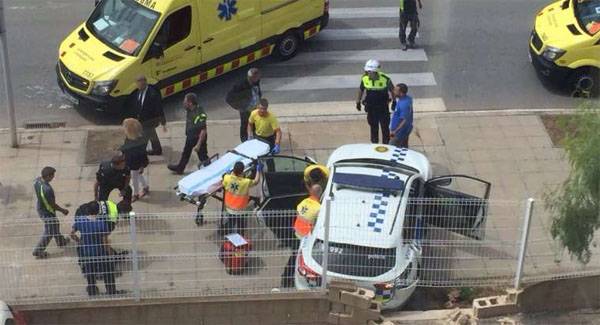 Spanish newspaper
El Periodico
writes that one of the shooters in the restaurant could have been a minibus driver. It is reported that we are talking about a Turkish restaurant, whose name has not yet been called. There is no mention of whether there are victims among the visitors.
At the moment, it is known that four metro stations are already closed in the central part of Barcelona. Police cordoned off the pedestrian Ramblas. Urgently all the shops and shops in the area of ​​the terrorist act were closed. The fact that a terrorist attack took place is now officially announced by the head of the local police department.
The number of people injured as a result of the arrival of a caravan on Rambla Street reached 20 people (besides the two dead). At least four are in critical condition. The wounded are urgently sent to city hospitals.
The official representative of the police department reports that at the present time (19: 10 Moscow time) the terrorists have not been neutralized.