The Ministry of Defense of the Russian Federation approved the establishment of a special dog service, this decision will streamline the training of military dog ​​handlers and the training of service dogs, according to
News
.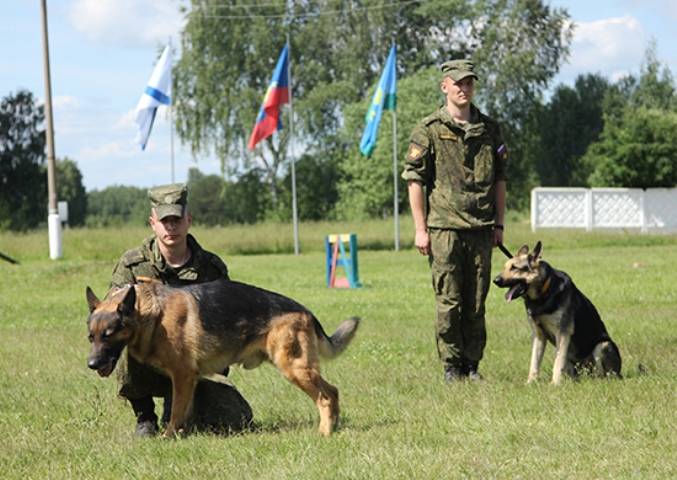 Prior to this, cynological divisions were scattered in various departments and departments and did not constitute a single structure.
According to Major General Vladimir Golovachev, head of the military and security service department, the tasks of the new structure will be "systematizing the experience of training service dogs, introducing innovative training methods, and creating a methodological base for the development of this activity." The reason for the decision was the experience of the "Loyal friend" competition within the framework of the "Army International Games".
Despite the development of modern technology, more than three thousand service dogs are in the military service. There is no replacement for them, nor will there be. Any complex electronics can be disabled. A well-trained service dog can not be deceived. With a probability of 99,9 percent, she will perform the tasks assigned to her,
said Golovachev newspaper.
According to him, the main task of the service is to prepare service dogs and their counselors according to new standards.
Major Oleg Yurasov, chief of staff of the Central Star Military Dog School "Red Star", told the publication that "the methods of training dogs remained the same, but the approaches have changed." This applies to the physical and tactical training of counselors, as well as their wards.
Military expert, director of the Center for Political Conjuncture Ivan Konovalov:
We know from the films that they are used to guard the border or in the Ministry of Interior. At the same time, practically nothing is known about their role in the army. All this because the dogs were scattered in hotel services and departments. Because of this, the funding of dog services went on a residual basis. But, as soon as the fighting begins, they immediately recall the dogs. They are starting to be sharply needed.
According to the expert, no one except for "the best friends of a person" can so well help in demining the area or in protecting the territory.
Not a single robot can compare with a trained dog, because the car does not have such instinct and intuition as the "four-legged soldier." Dogs actively participated in the demining of the territory of the Northern Caucasus and Syria. Therefore, the creation of a cynological service of the Ministry of Defense is welcome. This means that dogs will be trained systematically. Funds will be earmarked for this, and four-legged helpers will always be at hand,
added on.