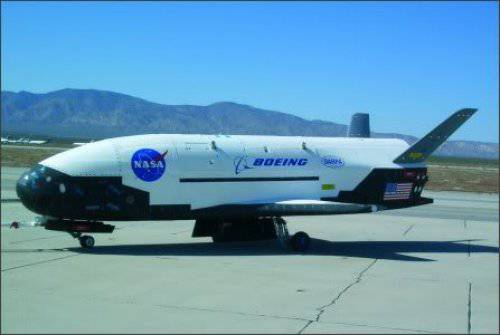 According to Rosbalt, the American unmanned space plane X-37B has been implementing a secret mission for more than a year in Earth orbit. It was originally planned that the flight of the spaceplane will last nine months.
As the representative of the US Air Force Lt. Col. Tom McIntyre said, the Americans are satisfied with the results of the experiment. The spaceplane program, as noted by McIntyre, helps set standards for reusable spaceplanes (Vesta information).
It is not known what time the device will remain in near-earth orbit. The lieutenant colonel did not clarify this, but only announced that the mission of the spaceplane would be completed once all the goals had been achieved.
The American lieutenant colonel refused to reveal the tasks that the secret "missionary" was solving. Information about devices that are installed on board the X-37B was previously classified by the Pentagon.
According to the Nezavisimaya Gazeta, many experts see in the American apparatus a prototype of a space interceptor, which, if necessary, will be able to disable satellites, or even launch air strikes from the Earth's orbit.
The X-37B orbiter was launched exactly a year ago - 5 in March 2011 from the launch site at Cape Canaveral. The first such device was launched by the Americans into space in the spring of 2010 and spent 9 months in orbit, and then landed in California.
Commenting on that flight, the representatives of the United States Air Force stated only that this is a colossal achievement, proving the ability of the United States to successfully deduce and return orbiters.
According to reports, the beginning of the new mission of the device is scheduled for the autumn of this year.
Recall that the X-37B is an unmanned orbital aircraft, created by Boeing. The device was developed, as indicated in various media, to test future technologies of launch into orbit and then descent into the earth's atmosphere. X-37B was launched as a joint project of NASA and Boeing, but after a while it was given to the US Air Force. As a result, the tasks of the X-Series aircraft were classified. On the basis of secrecy, there were also suspicions that the American X-program was nothing more than an episode of "star wars", consisting in the attempt of the United States to implement a new missile defense system.