The construction of a bridge across the Kerch Strait by Moscow effectively condemns Ukraine to a kind of isolation, said Georgy Tuka, Deputy Minister for Refugees. According to the official, the construction of the Crimean Bridge "Russia violates all international standards," reports
"Observer"
.
She (Russia - approx.) Actually condemns Ukraine to a certain kind of isolation by sea
- declared Tuk.
This is not the first statement of the Ukrainian ministers regarding the construction of the Kerch bridge. Earlier, the Minister of Justice of Ukraine, Pavel Petrenko, said that Russia would not be able to complete the construction of the Crimean Bridge, since it allegedly did not have enough of its own forces, and foreign companies would refuse to participate in this project.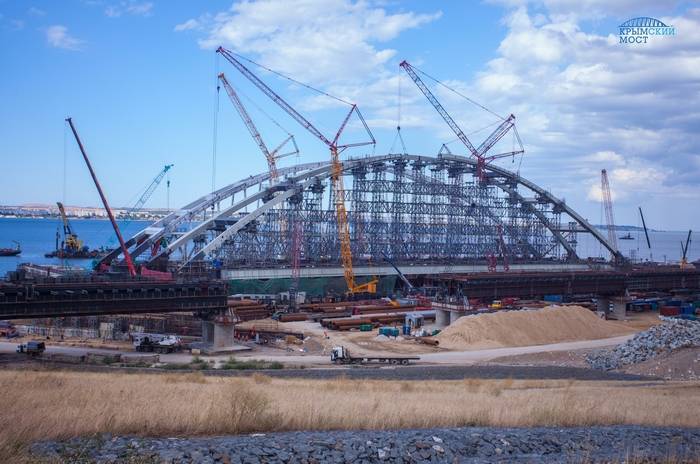 In early August, it was reported that Ukraine intends to file a lawsuit against Russia because of the construction of the Crimean Bridge, as the port of Mariupol and Berdyansk allegedly incur losses. Kiev believes that the new bridge "paralyzes" shipping routes to Ukrainian ports. The Ukrainian side is concerned about the possible blocking of the passage of ships due to the installation of the arch - according to Kiev, the corresponding restrictions will last for 23 of the day, although the bridge builders talk only about the 72 clock.
The Ukrainian authorities have repeatedly forced panic that the Kerch bridge put into operation will block shipping, and the Ukrainian ports of Mariupol and Berdyansk will lose the opportunity to receive and deliver cargo.
However, the Kerch bridge does not interfere with shipping. It will be blocked only for a few days due to the need for technical work, in particular, the installation of the arch. While in general, the bridge is built specifically so that the ordinary fleet could pass under it without any problems. Mariupol and Berdyansk ports will not be seriously affected by the construction of the Kerch bridge, said Alexei Bezborodov, general director of the Infranews specialized research center.
Meanwhile, Mariupol and Berdyansk sea ports are really losing their cargo turnover, but for completely different reasons. For example, the Mariupol trade port was tied to the Donetsk cargo traffic. But since 2014, due to the unleashing of a military operation, he has seriously subsided, and with the organization of a complete blockade by Kiev, Donetsk has become completely scanty. Estimated cargo traffic in the port is ridiculous 1 million tons. This is 30 times less than in Odessa.
The Crimean Bridge will connect the Crimean Peninsula and the Krasnodar Territory. The total length of the facility will be 19 kilometers, it will be the longest in Russia. Road traffic on it is planned to open in 2018-m, and the railway - in 2019 year.