According to information
TASS
, Major-General Igor Kirillov, Chief of the Radiation, Chemical and Biological Defense Forces (RCBZ), announced that the units under his jurisdiction will begin to receive new-generation robots before 2020.
Before 2020, it is planned to equip military units of emergency response of RCB protection troops intended to eliminate the consequences of accidents at dangerous facilities with new-generation robotic complexes.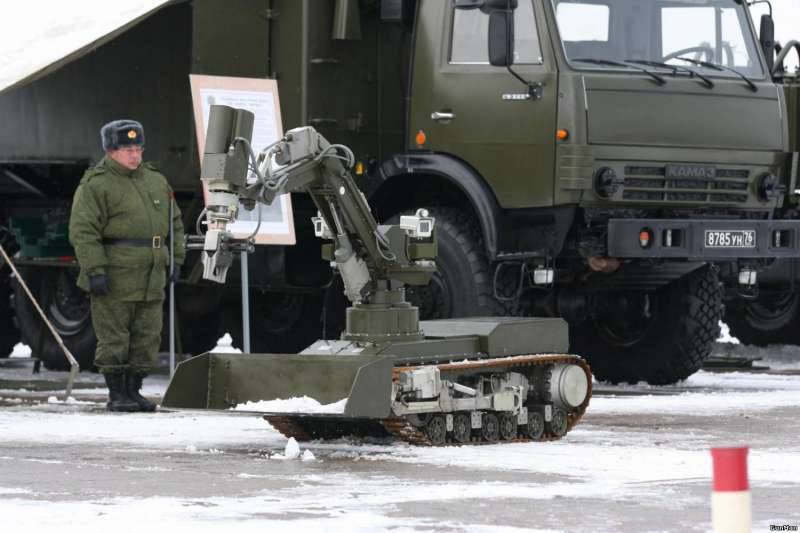 The development of appropriate robots began after the Chernobyl disaster. The experience gained in the aftermath of its aftermath was implemented during the creation of the Raznoboi project (the complex was commissioned in 2002) and the Den project (remote-controlled robot RD-RHR, adopted in 2005).
The samples on the supply of the Armed Forces of Russia as a whole ensure the solution of the whole range of tasks assigned to the RCB protection troops, but do not fully meet the prospective level of requirements for robotic facilities.
In addition, in his words, a new gas mask is currently being developed, the supply of which is expected to begin with the implementation of the new state armaments program.
The development of a new general-purpose gas mask, created using modern polymeric materials, is currently being completed. After the sample is accepted for supply within the framework of the State Defense Order and the state armament program, it is planned to purchase it and deliver it to the troops. In the future, the development of a fundamentally new complex means of RCB head protection of the modular type, which is an integrated system of protection against chemical and thermal damaging factors, will begin. Essentially the gas mask will be combined with the armored helmet.