The US Department of State commented on the statement made yesterday by Russian Prime Minister Dmitry Medvedev on the current Russian-American relations. Recall that, according to Medvedev, the United States declared Russia "a full-fledged trade war, ending hopes for improving relations between the two countries."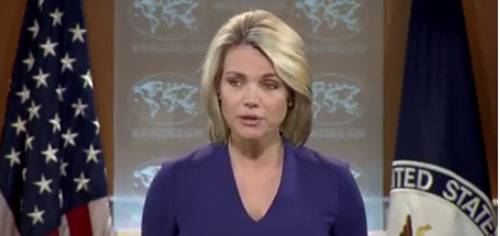 Here's how the words of Dmitry Medvedev were commented on by the official representative of the US Foreign Ministry, Heather Nauert, after she was asked to comment at the briefing:
If Russia has said such a thing, then, of course, it has the right to speak, but I cannot say anything more on this subject. We are two nuclear superpowers. And people around the world agree that the United States and Russia should be able to work with each other. Look at the truce in southwestern Syria, which has been observed for almost a month now. And this is an example of good cooperation between the USA and Russia.
Recall that the statement about the trade war declared by Washington Moscow, Medvedev made after the introduction of the next anti-Russian sanctions. The situation is complicated for the USA only because the more sanctions they impose, the less understanding they find, in particular, among European partners. In the same Germany, they are well aware that the goal of imposing sanctions is not a change in Russia's position on Ukraine, but the US desire to take the European market in hand, turning it into its own monopoly trading platform.