The patrol ship (TFR) "Inquisitive" of the Black Sea
fleet
(Black Sea Fleet) successfully completed the tasks as part of the permanent formation of the Navy of the Russian Federation in the Mediterranean Sea and began the transition to the place of permanent deployment, reports
press office
Southern Military District.
The ship flying the flag of the Black Sea Fleet Black Sea Fleet commander, Rear Admiral Oleg Krivorog, conducted a number of training sessions in the Mediterranean and took part in the first naval ship parade in honor of the Russian Navy Day, which took place at the port of Syria's Tartus port.
It is planned that the patrol ship will return to Sevastopol 4 August.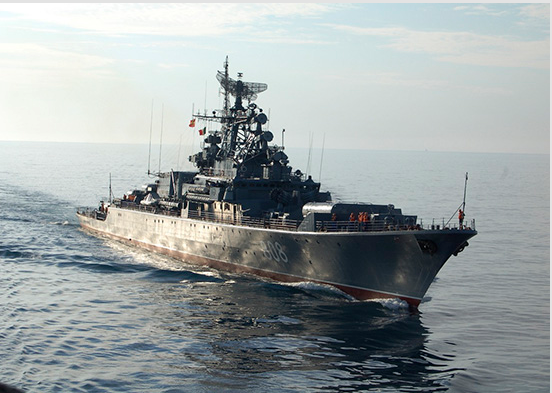 For reference: "Inquisitive" is the patrol ship of the 1135М project, which is in service with the USSR Navy and is currently in service with the Russian Black Sea Fleet. The ship was laid on 27 on June 1979 of the year at the Yantar shipyard in Kaliningrad, launched on 16 in April of 1981, joined the fleet of 9 in February of 1982 of the year.
TACTICAL AND TECHNICAL CHARACTERISTICS
Power installation: 2 GTU, 2 fixed-pitch propeller
Power: 34000 HP (total)
Speed: 32 node; economical: 14 nodes
The autonomy of swimming: 30 days
Crew: 190 people
DIMENSIONS
Displacement: 3400 tons
Length: 123 meters
Width: 14 meters
Draft: 4,5 meter
ARMAMENT
4 launchers of the URK-5 "Rastrub" missile complex, 2 dual launchers of the Osa anti-aircraft missile complex, 2 100 mm AK-100, 2 artillery X-NUMX, 533 mm torpedo tubes, X-guns