The Zimbabwe team, which took the last place in the first stage of the military intelligence competition in the framework of the International Army Games in Novosibirsk, faced difficulties during the march-throw, the team members explained this by the fact that there is no such forest in their country,
сообщили
in the department of information and mass communications of the Ministry of Defense of Russia.
In addition to the Zimbabwe team, the competition is attended by the military from Armenia, Belarus, Kazakhstan, China, Russia and Uzbekistan. According to the results of the first stage, which includes landing from a helicopter, a forced march and organizing an ambush with the capture of a conventional enemy, the Russians are leading.
The most difficult stage for the team is reconnaissance in the forest, as there are no such forests in Zimbabwe. Thanks to the competition, the team has a unique opportunity to gain experience in orienteering in forest areas
- Reported by the department.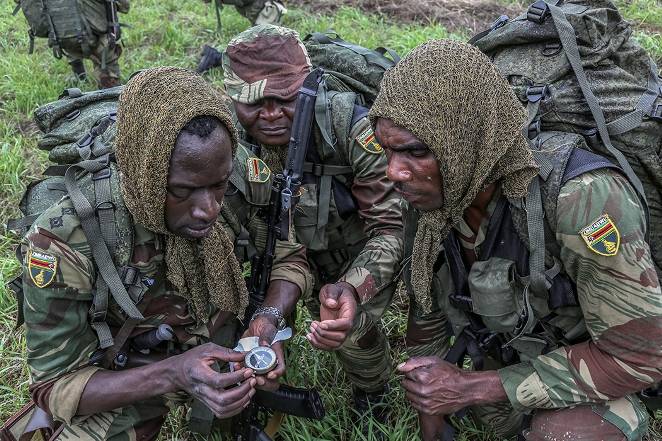 However, noted in the Ministry of Defense, intelligence officers from Zimbabwe are not going to give up: they intend to catch up in the following stages.
According to Major Justin Zhou's senior team, the military has been preparing for a competition in their homeland for four months. He also explained that the Zimbabwe team prepared a special presentation as a surprise, which will be presented at the closing ceremony of the competition. Details scouts are kept secret.
Today in Novosibirsk, the second stage of the competition "Excellence in troop intelligence" has started in the framework of the International Army Games-2017.
Mechanics-drivers of intelligence units will demonstrate their skills and professional skills in driving infantry fighting vehicles in adverse weather conditions.
The driver will perform the test exercise "Driving an infantry fighting vehicle in difficult terrain conditions" along a route longer than 5 km. Combat vehicles must move at the highest possible speed and overcome artificial and natural obstacles: a track bridge, a passage in a mine-explosive barrier and between pillars during ascent and descent, a ford, a section of barriers and maneuvering, and an anti-tank ditch.
The second stage of the competition will be completed by loading an infantry fighting vehicle onto a railway platform and a heavy-duty semi-trailer for accuracy and time.
Teams of Armenia, Zimbabwe and Kazakhstan are competing in infantry fighting vehicles BMP-2, which are in service with the Russian army. A team from the People's Republic of China uses its military equipment.
The rest of the reconnaissance units will comply with standards for communications, military medical training, special tactical training, and radiation, chemical and biological protection.