The US Embassy in the Russian Federation protested to the Russian side over the response to the American diplomats, Ambassador John Tefft was deeply disappointed with the decision of Moscow, the statement by the head of the diplomatic mission Maria Olson said in a statement
RIA News
.
We received a notice from the Russian authorities (on measures regarding American diplomats and diplomatic property - ed.). Ambassador Tefft expressed deep disappointment and protest. We redirected this notice to Washington for review.
- said Olson.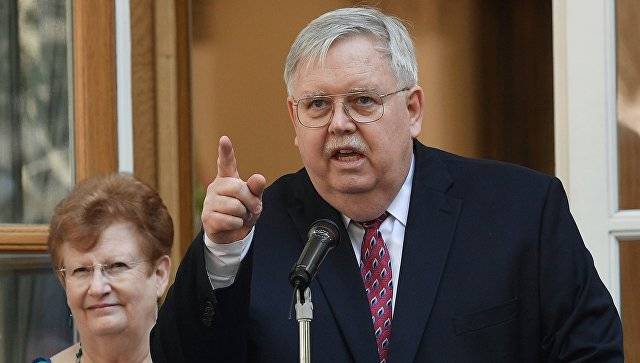 Deputy Foreign Minister Sergei Ryabkov on Friday handed a note to the American Ambassador to Moscow, John Tefft, on decisions regarding US personnel and diplomatic property, the Russian Foreign Ministry said in a statement.
On July 28, US Ambassador John Tefft was summoned to the Russian Ministry of Foreign Affairs to whom the text of the statement of the Russian Ministry of Foreign Affairs on the decisions taken regarding the staff of the US diplomatic missions and their facilities was handed over, and corresponding diplomatic notification notes were handed over
- the report says.
We remind you that the Foreign Ministry of the Russian Federation on Friday called on the United States before September 1 to bring the number of diplomats and technical staff of diplomatic missions in the Russian Federation in accordance with the number of employees of Russian diplomatic missions in the United States. In addition, the Russian Federation will suspend the use of storage facilities on Dorozhnaya Street in Moscow and the embassy dacha in Serebryanny Bor in Russia since 1 in August.