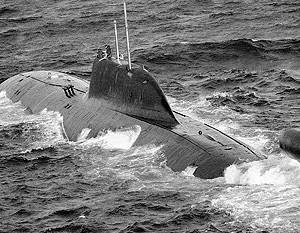 The British Navy discovered a Russian submarine, the crew of which tried to record the acoustic signal of the Royal Navy's nuclear submarine, reports The Daily Telegraph, citing an unnamed source in the command of the British
fleet
.
According to a newspaper source, the Russian submarine of the 971 Shchuka-B project (NATO designation "Akula") was spotted near the royal naval base in Scotland Faslane, when it was awaiting the release of the Vanguard submarine capable of carrying Trident D4 nuclear missiles. Then an anti-submarine class Trafalgar was sent to intercept the Russian boat.
The command of the British fleet is concerned that the Russian submarine can manage to record the unique noise of the Vanguard's engines, which will give her the potential to sink the British submarine before she releases the charge.
The incident, reported by the newspaper, occurred no earlier than six months ago, but so far it has been kept secret, writes The Daily Telegraph. Currently, as the newspaper notes, the British military have noted the most frequent cases of contact with Russian submarines since 1987. "The Russians are playing games with us, the Americans and the French in the North Atlantic," the agency quotes a high-ranking source at the command of the British Navy.
"We cannot allow Russians to find out the acoustic characteristics of one of our submarines, as this will put our means of containment at risk," the source also said, RIA reports.
News
».