The crew of the Black Sea frigate
fleet
"Admiral Grigorovich" arrived in Sevastopol after completing tasks as part of the permanent connection of the Navy in the Mediterranean Sea, said Captain First Rank Captain Vyacheslav Trukhachev, Head of the Information Department of the Black Sea Fleet, reports
RIA News
.
The crew of the frigate of the Black Sea Fleet "Admiral Grigorovich" completed the execution of tasks as part of the permanent grouping of the Navy in the Mediterranean Sea and arrived in Sevastopol. The total duration of the cruise of the ship exceeded four months.
- he said.
The Admiral Essen ship of the same type joined the grouping of the Russian Navy in the Mediterranean Sea to replace Admiral Grigorovich, he began performing tasks on July 10. Both frigates are armed with the Caliber cruise missiles, which were used to strike at terrorists in Syria.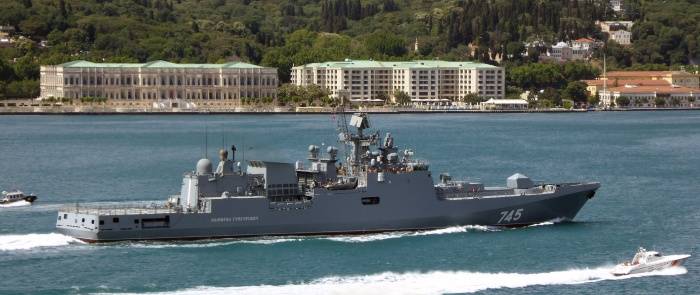 "Admiral Grigorovich" - the main frigate of the sea zone of the project 11356, "Admiral Essen" - the first serial.
The ships of this series are built at the Baltic Shipbuilding Plant (PSZ, part of the United Shipbuilding Corporation). They have a displacement of the order of 4 thousand tons, speed - 30 knots, autonomy of swimming - 30 days. The frigates are armed with Caliber-NK and / or Onyx cruise missiles, the Shtil-1 self-defense missile system, the 190 caliber of millimeters, the anti-aircraft artillery, the rocket bomb system, the torpedoes, and the helicopter can not carry the helicopter, the anti-aircraft artillery, the A-100 rocket. 27 (or Ka-31).
It is expected that the third frigate of the Admiral Makarov series, after participating in the Main Naval Parade scheduled for July at 30 in Kronstadt, will also go to the intersectional crossing to the Black Sea Fleet.
At present, the fourth and fifth frigates of this project are at different stages of construction at PSZ.
During the long-distance march, the Admiral Grigorovich struck Caliber cruise missiles at Islamic State militants in Syria.
Islamic State * IG * - prohibited in Russia