The All-Russian Public Opinion Research Center publishes the results of data processing.
survey
about whether Russian citizens are interested in the Ukrainian topic. Respondents were asked questions about how they assess the situation in Ukraine and whether they monitor
the news
from Ukraine? Moreover, the results were compared with the results of similar polls of past years.
Question # 1 was as follows:
Do you personally follow or do not follow the political events currently taking place in Ukraine?
Answer: "Yes, I watch carefully" gave 18% of respondents. Answer: "I follow, from time to time" gave 54% of respondents. 28% of respondents do not follow events in Ukraine.
It is noteworthy that in the 2006 year, when the confrontation between the president and the Verkhovna Rada was unfolding in Ukraine, the interest was almost the same: a total of about 70% of Russians polled followed the Ukrainian events.
Interesting results can be considered the answers of respondents of the citizens of the Russian Federation to the question №2, which sounded like this
"Describe in two or three words what is currently happening in Ukraine?"
One could give a triple answer.
The largest percentage (37%) gathered answers of this type: "Mess, anarchy, lawlessness, banditry". The second most popular answer is "Civil War / War" (19%). Among the popular answers and such as "coup, the struggle for power, genocide, the killing of civilians." Difficult to answer 10% of respondents. 1% answered: "Everything is fine in Ukraine."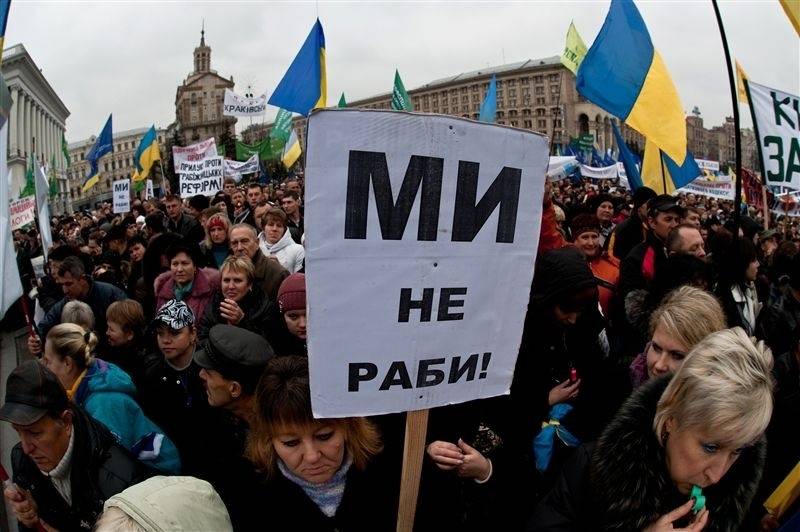 61% of respondents said that relations between Ukraine and Russia are either tense or hostile. At the same time, 52% of Russians are confident that the situation in Ukraine continues to deteriorate. The opposite opinion only 5% expressed.