According to the online edition
News
", The Russian Navy will consider the possibility of acquiring landing craft A223 project, developed at the Zelenodolsk plant.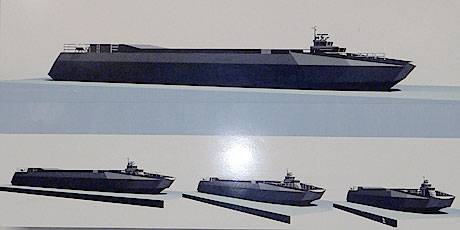 They are intended for the transfer of military personnel and equipment to the unequipped coast, both in clear water and in conditions of small ice. Their difference from their predecessors, the landing craft of the 21820 "Dugong" project, is the ability to load from large amphibious assault carriers - ships-docks like Mistral or "
Avalanche
».
The length of the landing boat A223 is about 35, the width is about 7, and the draft is about one meter. The boat is driven by two water-jet engines, allowing to develop a speed of a loaded boat of about 40 knots. Depending on the modification, the ship takes on board up to 150 marines or from one to three
tanks
T-90, or from four to seven BTR-82A.
Thanks to the hydrodynamic scheme of the hydrofoil with two transverse swept redan, two integral cheekbones in the nose, variable deadrise on the midship and on the transom with a system of controlled intceptors and water-jet propulsion, the А223 launch boat provides a rational combination of speed, seaworthiness (in 5 points), optimal fuel economy and reduction vertical overload on the wave.