Tests of the ship version of the Ka-52 helicopter are scheduled to be completed before the end of 2019, after which it will begin to be delivered to the Ministry of Defense, reports
TASS
message of the press service of the holding company "Helicopters of Russia" (BP).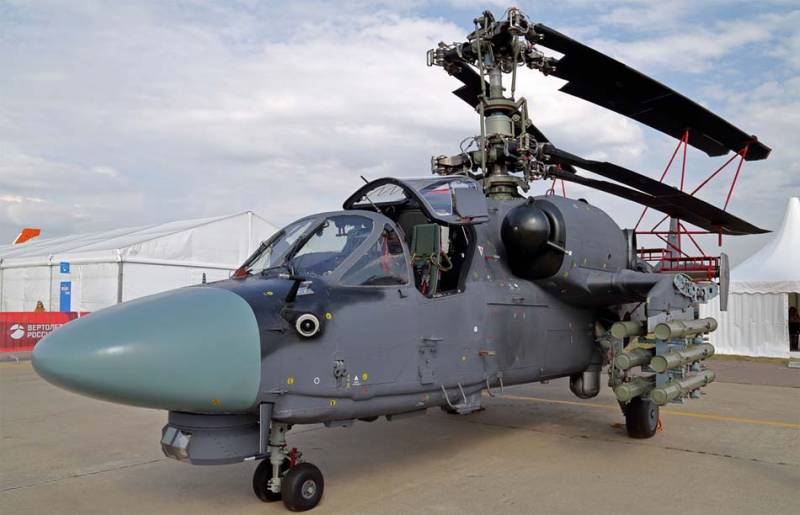 By the end of 2019, it is planned to complete the tests of the helicopter. Accordingly, the first deliveries in the interests of the Ministry of Defense are planned immediately after the tests,
told the agency in the holding.
In May, the company announced the completion of the first test phase, which began at the end of 2016.
Earlier, BP CEO Andrei Boginsky reported that the company expects to conclude a contract with the Ministry of Defense for the supply of Ka-52K in 2019 year.
In turn, Sergey Mikheev, General Designer of Kamov, said that the testing of the machine is planned to be held in the next 3 of the year on ships of four different types.
The Ka-52K differs from the basic model by the presence of a shortened folding wing, which was modified to accommodate heavy weapons, and a blade folding mechanism, which allows it to be placed compactly in the ship's hold.
"The reduced dimensions of the Ka-52K allow an increase in the number of helicopters placed on the ship. The armored cockpit and ejection system allow pilots to safely leave the car. In addition, a ship-based Ka-52 provides a rescue device to help people who are in distress at sea, "the publication says.