The Ministry of Defense of the Russian Federation began the formation of regiments, battalions and mouths of multi-axle heavy wheeled tractors (MTKT), the task of which is the prompt delivery of armored vehicles to combat sites thousands of kilometers away, according to
News
.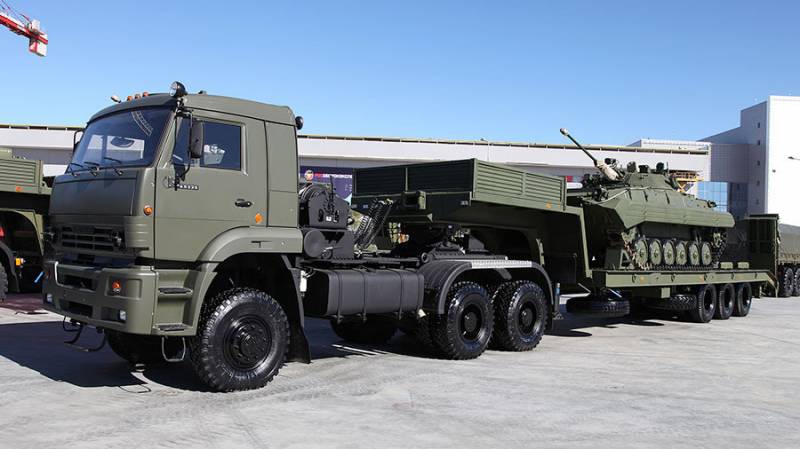 The military department told the newspaper that the decision to form new military units was made at the end of 2016. They will become part of all military districts, combined arms and
tank
armies.
"The first three battalions of tractor units already appeared at the beginning of this year in the Central and Eastern military districts. They are based in Chita, Khabarovsk and Chebarkul. And by the beginning of 2018, such military units will appear in the Southern and Western districts, "the publication says.
According to the newspaper, MTKT battalions are equipped with KAMAZ-11 three-axis 65225-tonne tractors, which on a special semi-trailer they can carry loads of up to 65 tons. 72-41 t).
It is reported that in every MTKT company there will be more 30 tractors.
Military expert, editor of the magazine "Arsenal of the Fatherland" Victor Murakhovsky:
Heavy equipment has serious limitations on the resource of the chassis and engines. Given the cost of such equipment, it is irrational to spend its resource on long marches. Moreover, to do it on public roads - tanks will simply break them. Therefore, the equipment was always transported either by rail or by road. The railway has its drawbacks - it is not possible to bring equipment directly to the place of its combat use. Modern heavy conveyors can do this. In addition, in ultra-low temperatures, they can provide combat vehicles with heating of the transmission group from their own equipment. As a result, a tank or other heavy equipment is constantly ready for immediate use.