The Office of the Ombudsman's Commissioner for Human Rights reports that in the territories of Donbass under Kiev's control, detentions of those citizens of Ukraine who oppose the continuation of the civil war continue. The unit DNR received several allegations of such arrests. Data published by the portal
"Donetsk News Agency"
:
At the Mayorskoye checkpoint 6 on June 2017, SBU officers detained a woman, 1956, who was born. In the city of Kramatorsk, 1 on June 2017 was arrested by officers of the SBU man 1951 of the year, and in Mariupol on 31 of May 2017, a woman was born 1994, born.
It is stated that in total, the Security Service of Ukraine keeps citizens in the dungeons of 736, who openly spoke in favor of the cessation of hostilities in the Donbas. This people are accused of "aiding separatism." It turns out that calls for an end to the fratricidal war in Kiev today are also referred to as separatism.
Last night, the Ukrainian security forces continued shelling the territory of the DNR and the LC. So, in the Luhansk People's Republic, according to the command of the NM command, at least seven attacks were recorded. Ukrainian security forces continue to be active in the area of ​​the Bakhmut highway. The Armed Forces of Ukraine military personnel clearly received an order to organize a new "hot spot" on the contact line before the next stage of the Contact Group meeting, which, I suppose, like all previous ones, will not lead to anything effective.
At the same time, the goal of the Ukrainian security forces, in addition to the phased advancement in the "gray zone", is to provoke the forces of the LPR to a hard response. If such a response in the near future from NM NMR is, then this will give Kiev an excuse to again speak of "violation of the Minsk agreements by the opposite side" - just before the meeting on the implementation of the Minsk agreements.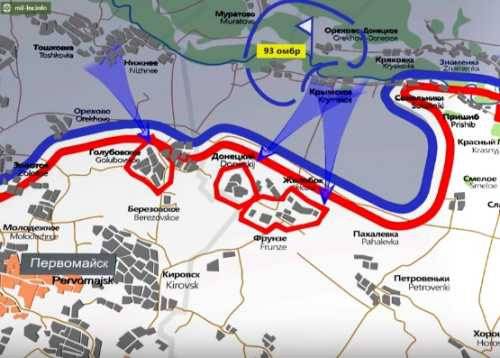 Another question is that if the NM of the LNR does not respond to the Ukrainian provocation, the APU will continue to continue their "toad jumps", occupying more and more areas in the so-called "gray band" - the territory of delimitation of the power of the Supreme Court of Ukraine and the People's Militia.
Apparently, NM LC takes a "wait-and-see" position and, if the contacts under the Minsk agreements are not crowned with success, they can easily send the APU to the same 100 meters from Zhelobka and the height occupied by Bakhmutki.