According to "
Messenger of Mordovia
", In the Internet space posted footage, which captures the Syrian medium tank T-55, whose towers are completely covered with dynamic protection"
Contact-1
".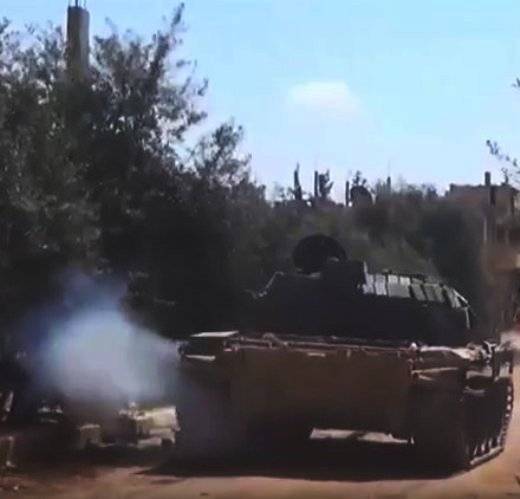 In June 1982, the Contact-1 development work began on the development of dynamic protection for
tanks
T-80, T-72B, T-64A, T-62 and T-55. Duration of OCD - 6 months. In January 1983, the State Commission signed an act on the implementation of the ROC. By the end of 1984, almost the entire tank fleet was equipped with mounted DZ kits.
T-55 - medium tank developed by the design bureau of plant No. 183 (later - Uralvagonzavod software) based on the medium tank T-54B in 1958. It differs from T-54B by a more powerful engine, increased ammunition, increased capacity of the fuel system, introduction of anti-nuclear protection, advanced equipment, installation of smoke equipment of the new type, etc. Adopted on 8 in May 1958. Serial production at the plant number 183 (UVZ) started in June 1958, and in the first base modification completed in July 1962. Also T-55 tanks were made at the plant number 174 (Omsk, with 1958 g.) and at the factory number XXUMX (Kharkov). Repeatedly modernized (75 g., 1970 g., 1975 g.). The latest Russian tanks T-1983
were taken out
for disposal from the Kuril Islands in 2011.