Tankmen returned the black overalls for everyday work, digital paint remained in strong refractory overalls, intended for combat operations, reports
Rossiyskaya Gazeta
.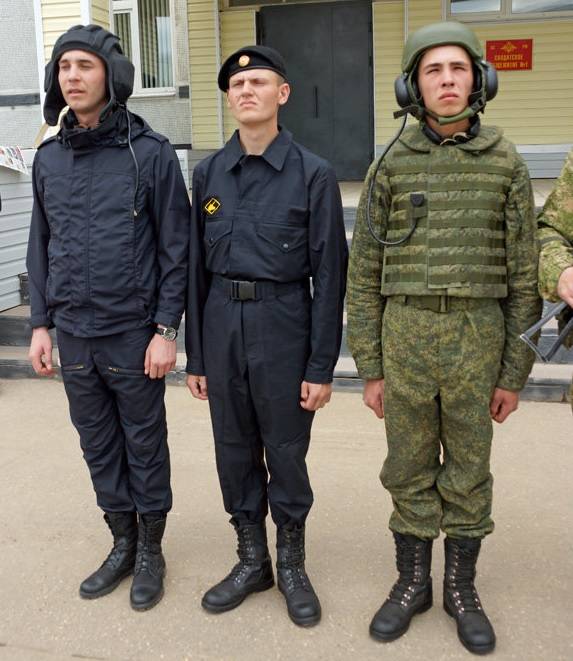 Saturday at the 4th Guards
tank
The Kantemirov Order of Lenin of the Red Banner Division was presented with modern equipment. Veterans immediately drew attention and were glad that they saw tankmen dressed in black overalls.
"For a quarter of a century, the tank forces have not left aside the endless reform of the Armed Forces. Someone thought that black does not correspond to epochs of change, green camouflage is better suited. And the tankers have become similar to ordinary motorized infantry. But they did not take into account that the tank is a fighting vehicle in which it is not field flowers that smell sweet, but fuel and lubricants. Diesel fuel, kerosene and various oils tend to quickly turn camouflage into something filthy, "the material says.
Today, it seems, common sense has returned. Now for everyday work tankers will have light, practical and comfortable black overalls. If the work in the park - on the head black berets, for trips to the site - the classic headsets.
In the case of hostilities, special tight coveralls of spotted (digital) color are provided. They are fire resistant and can protect against small fragments. If the machine is put out of action and the crew has to leave it, then the special coloring will reduce the visibility of the soldiers in the technical vision systems of the enemy. The head is not an ordinary headset, but a solid helmet made of composite materials.
"So the form of modern tankers has become elegant and practical, both in peaceful life and in war," concludes the publication.