Cruise missiles Tomahawk fully "prescribe" on diesel submarines. At the IMDEX Asia 2017 exhibition, which is taking place these days in Singapore, the Swedish company Saab demonstrated a model of the modernized diesel-electric submarine of the A26 project, equipped with vertical launchers for Tomahawk missiles, reports
"Warspot"
with reference to the portal defensenews.com
Today, vertical launchers for Tomahawk missiles are present only on nuclear submarines serving in the United Kingdom and US Navy. In addition, some models of diesel-electric submarines are equipped with torpedo compartments, modified to launch "Tomahawks."
Scale model of a submarine Saab A26 with vertical installations for cruise missiles
If the new modification of the submarine Saab A26 is embodied in the metal, it will become the first diesel-electric submarine capable of carrying cruise missiles in vertical launchers. Saab indicates that some countries are already interested in the new project.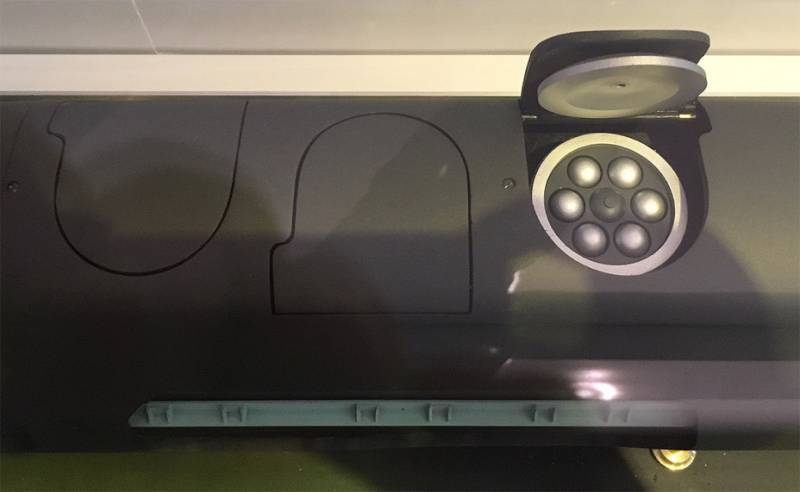 Vertical Launchers for Tomahawk Cruise Missiles
In the standard version, the A26 is a modular submarine with a displacement of 1900 tons. The main purpose is to conduct operations in coastal waters. The length of the submarine - 63 m, the number of crews will be from 17 to 26 people. A Swedish-made submarine will receive an air-infused Stirling engine, which will allow it to perform combat missions without surfacing up to 20 days. The module with installations for cruise missiles will add a submarine 10 m of length and about the order of 400 – 500 to the mass. In the version presented on IMDEX Asia 2017, the module is equipped with three launchers with a capacity of 6 missiles each.
The first buyer of the A26 submarines is the Swedish armed forces, which ordered the construction of two units. The first one should be ready for 2022 year. Due to the modular design, the installation of a module with vertical launchers for Tomahawk missiles is possible both in new submarines and those already under construction.