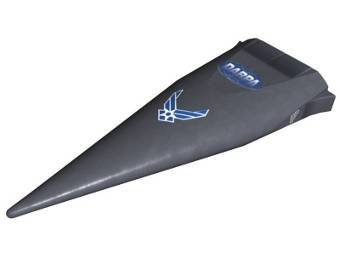 The first flight of the American experimental hypersonic glider, which according to the project will be capable of speeds up to 20 max (about 23 thousands of kilometers per hour), was unsuccessful, reports Defense News. According to the USAF, which tested the Falcon Hypersonic Technology Vehicle 2 (FHTV-2), the device was successfully launched into the upper atmosphere, after which it developed speed in 20 max. Then contact with him was lost.
Analysis of the information available to the US Air Force continues. The findings from the data processing will be taken into account during the second flight of the FHTV-2, scheduled for the 2011 year. The first flight of the apparatus took place on April 20 2010. The device started on board the Minotaur IV launch vehicle from the US Air Force Vandenberg base in California. According to the first flight plan, the FHTV-2 was supposed to fly 4,1 thousands of nautical miles (7,6 thousands of kilometers) in half an hour and fall off near Kwajalein Atoll. Where in fact the device fell, is not specified.
Details about the program FHTV-2 are not disclosed. The development of the device is conducted from 2003 year. Now the program is part of the concept of operational global precision strike of the US Pentagon. This concept implies fast strikes anywhere in the world with conventional weapons. It is possible that an FHTV equipped with a conventional warhead will be used instead of ballistic missiles, since the launch of the latter may be regarded by other countries as a nuclear threat.
The US Air Force is also considering the possibility of using vehicles like the FHTV as intelligence and surveillance systems. They can be used in such a role if spy satellites located in low near-earth orbits are derived.