As part of the IDEF-2017 exhibition in Istanbul, Pakistan's state-owned Pakistan Aeronautical Complex (PAC) state company has signed an official contract for the sale of the Super Mushshak training aircraft to the Turkish Air Force 52,
"News MIC"
.
The ceremony was attended by the Minister of Defense of Turkey Fikri Yishik and the Minister of Defense Industry of Pakistan Tanvir Hussein.
In October 2013, the Defense Industry Secretariat of the Defense Ministry of Turkey issued a request for proposals to supply the Turkish Air Force to 52 TCB with basic training designed to replace the outdated T-41D and SF-260D.
PAC, among other companies, submitted its proposal for the delivery of the Super Musashak TCB and in August 2016 was selected as the winner of the competition. Although the value of the contract has not been disclosed, according to media reports, the cost of one aircraft can be about 2 million.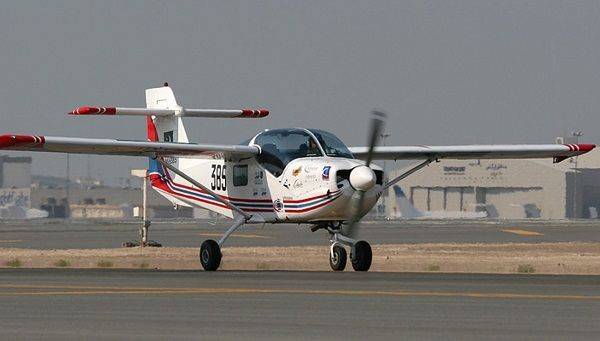 The Super Mushak is an upgraded version of the Saf MFI-17 aircraft, the project of which was acquired by the PAC in the 1980. The development of the MFI-395 Super Mushshak, equipped with an 260 horsepower engine, began in the 1995 year. The first flight of the aircraft made in August 1996 year. The Pakistan Air Force MFI-395 was adopted in May 2001. Pakistani Air Force got about Super Musash 50. Another 20 aircraft were delivered by the Air Force of Saudi Arabia, five - the Air Force of Oman. TCB was also adopted by the Air Force of Iran and Iraq. In June 2016, the company announced the signing of a contract for the delivery of the Super Musashak fusion vehicle to the Qatar Air Force, and in October to the Nigerian Air Force.
Turkey will be the first NATO country to which the Air Force will receive the Super Musashak.