Greetings to you and us, dear friends and colleagues! Probably, you will say, what is it that Cockroach has signed recently? I myself am sometimes amazed. But I want to. If you really want to, then it's better not to resist. You are like that too. Have a free minute and you are already in international
the news
, well, I hope you read Cockroach.
Well, let's start with the beautiful. Have you not forgotten that there will be Eurovision in Ukraine? Not? Judging by how much attention was paid to this event earlier, you will not forget this. This is what we thought. But it turned out that exactly when the talk about Eurovision stopped at you, they stopped at our place. And even in Europe. There will be - and will be ... But we are preparing. And, as is our custom, with a twinkle and enthusiasm.
And here is our first news. Watch and don't say later that you didn't see. In one of the previous reports, with the help of my young assistant, I showed you the Arch of Friendship. Which symbolized the friendship of the Russian and Ukrainian peoples.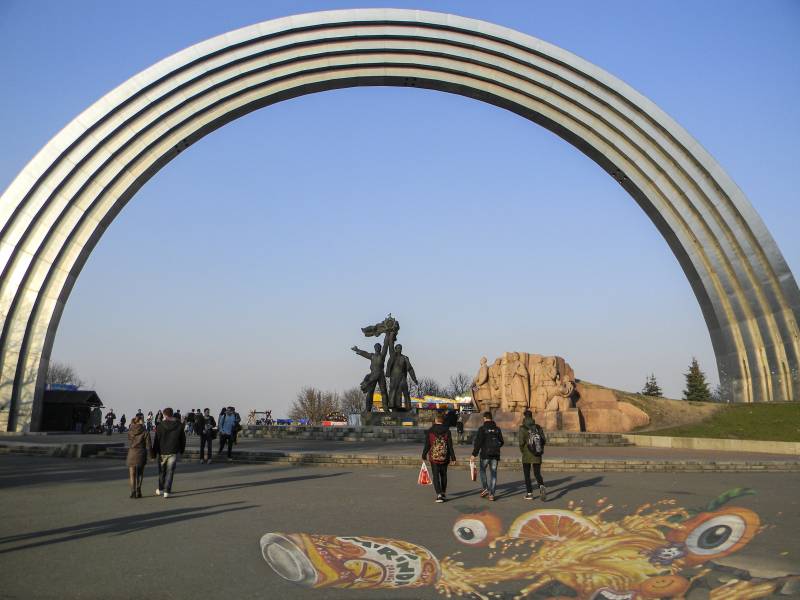 Two men hold the Order of Friendship of Peoples, and on the right a sculptural group depicting representatives of the entire Ukrainian people looks at them. With a completely clear expression on their faces. Without horror or hatred. Good such ensemble.
But - came, as they say, other times. Euro. Eurovision and European understanding. Euroaspirations.
And here's how the arch looks like today. Significantly? And then! This is not just a friendship for you now, this is Euro-Friendship! In the modern sense of tolerastii and other Euro-studies.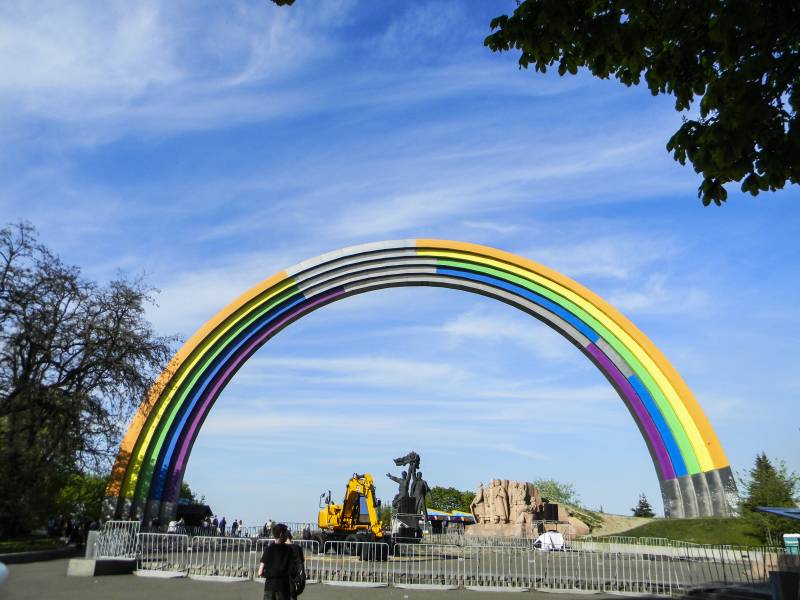 How do you? Here we are too. And let no one be confused by the fact that the LGBT rainbow is somewhat neutered. Everything here is clear and so: the red color is now banned, and is subject to immediate de-communization. Here, we have this understanding.
But now Kiev has a new Euro. Tolerant. We can, however. Envy. In Russia, this is not, and apparently never will be. And we have - already.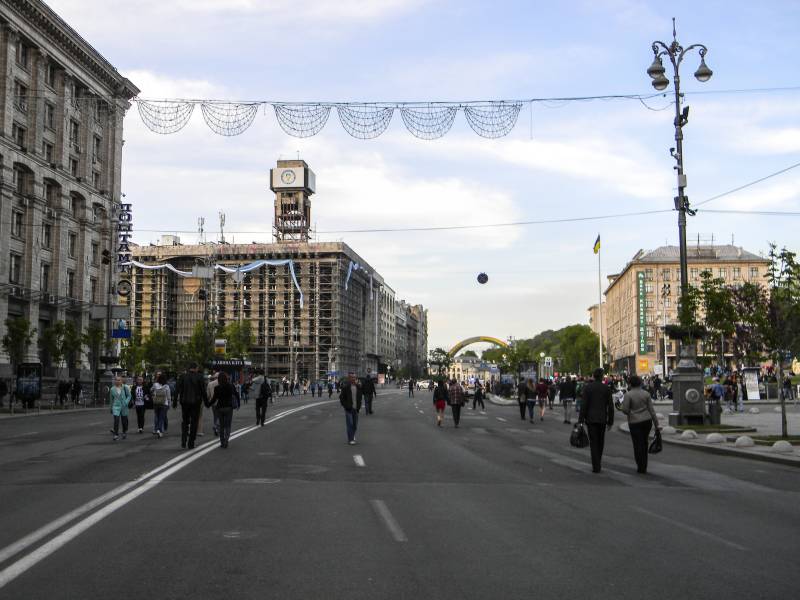 We here understand that the Order of Friendship of Peoples is precisely cut out of their hands. But then the question is, what will be given instead of him in the light of recent events? We make assumptions, but some kind of porn is solid. Well, how will the kobzari and the Cossacks look at two men who have in their hands ... And there are women in the sculptural group ...
And still some strange feeling. Such an important event for Europe, but ... They spat in the direction of Russia and the event became ordinary. What kind of phenomenon is this? Aliens or really Russia "roof", oh sorry, covers the Mother of God? No wonder we got a holiday from our ancestors - the Protection of the Most Holy Mother of God.
Now, one of the cheers of patriotic readers will say: "A cunning Tarakan. He is Ukrainian, then he sticks to the Russians." I did not wriggle and I will not. Just because you yourself, dear friends, write "completely in the hole": "Russians and Ukrainians are one people."
And to understand these words as uryakals, I will tell you one
history
from Odessa "Privoz". For those who have not been to Odessa, "Privoz" is the name of the market. So...
Odessa, "Privoz" fish row. Aunt huge size:
- Bitch !!! Bitch !!!
The visiting "Russian guardian" decided to teach her aunt to say correctly:
- Woman, right to say "Steers" ...
- That's right, "Neogobius fluviatilis", scattered, and your daddy smoked your dad in kindergarten, when I was already selling piggy here ...
I digress a little from the culture, but it still pulls the forks.
Remember my recent villager notes? Those in which I talked about the land? So, our officials have calmed down, just as if from ours. Sit, silent, about the requirements of the IMF do not remember. And here again. And right on the sly red face ... Or not red? Well, let it be just for the brazen and sly face. Permanent representative of the IMF itself in Ukraine, Jerome, your sarcastically so: "The land market must be launched as soon as possible." "Well, it's yours ...". I think that was what our pane Atamans thought. Expensive tourist visa will cost us.
But there is another problem. Holidays are these ... Ok 1 May. All the cottages and gardens. What about 8 and 9? I once sat here during work hours at home, it was dropping heavily on the street, thinking about one strange feature of Ukraine. I am sure that you, considering the size and ability to walk through puddles without much harm, did not think about it.
I listen to the news of Ukraine. I understand that they are lying, but the numbers come out, peremoga. Checking the numbers. For sure. So reports statistics. The next block of news. About Russia. Again I understand that they lie. but in numbers again we peremoga. Checking Russian sources. Exactly everything. The noise in the head, the brain is boiling. What's the secret?
Well, I'm a harmful insect. Life and dust poisoned. Slippers broken. But tenacious. And smart. Found the answer to this paradox. You can check out today. Just turn on the TV for any talk show. Additional proof will be. How easy it is to prove to people that white is black and vice versa.
Read how it sounds and find the differences. "At a time when the average pension for old people and people with disabilities is slightly more than 140-150 dollars, the government is finding 5,7 millions of rubles to build a new park in the neighborhood, which is not fully populated yet." "At a time when the average pension for old and disabled people is 8000-8500 rubles, the government is finding 100 000 dollars to build a new park in the neighborhood, which is not fully populated."
I hope you, my friends, are clever people. No wonder we communicate with you so much. We mutually learn. I didn't send you to the TV for nothing. Listen to the news from us and from you. And listen to your and our liberastov listen. Thank you cockroach say.
Okay, back for the holidays. Today, Ukraine resembles a pressure cooker with steam on a fairly good "Soviet" gas. Boils inside. A valve like, and can not cope with the flow of steam. We sit, look, and pray to God that the borscht should be cooked, and not a bomb exploded. Outwardly, everything is beautiful. And inside it is creepy.
The country has really risen in raskoryaku. May 8 will celebrate the day of mourning and reconciliation. We have been defeated, and we grieve for our dead soldiers. And we ask the winners to come to terms with us. Like it or not, this day is perceived in Europe as such. They are in mourning for our Victory. The son of a carpenter and the son of a shoemaker turned the heads of the greatest European military strategists. Wild "Ivan" put on his knees almost all of Europe.
May 9 will be our Victory Day. The descendants of those to whom our great-grandfathers "broke off their wings and feet", naturally, will try to defeat those soldiers who are still alive. Defeat their descendants. Win the winners. With the dead they work.
Remember the very recent history in the vicinity of the village Kilchen Magdalinovsky district of Dnipropetrovsk region? When two scumbags killed a monument to an unidentified officer at the memorial complex "Mass grave of civilians-victims of fascism and an unknown Soviet soldier." And after all not guys any. One 30, another 41 a year ... Here it is now, glory to Ukraine ...
But here too in Kiev it is not better, to be honest. Here you have a small walk along one of the central streets. Clean, calmly so. And suddenly in the distance a sort of ... is drawn in national colors.
In general, the principle of "if something went wrong - paint in yellow-blakytny, and everything will be fine" is observed sacredly.
This is how the monument to Shchors on the avenue now looks like. They wanted to send him to the museum of decommunization, so that everyone there could look at how we parted with our past. But not a fig!
Shortly before the dismantling, someone sawed off the bronze leg of the horse. And dragged somewhere. Perhaps he passed in tsvetmet. The museum now does not accept the monument, for incomplete and ugliness. The result - see for yourself. Wrapped in a known combination of colors, and normal.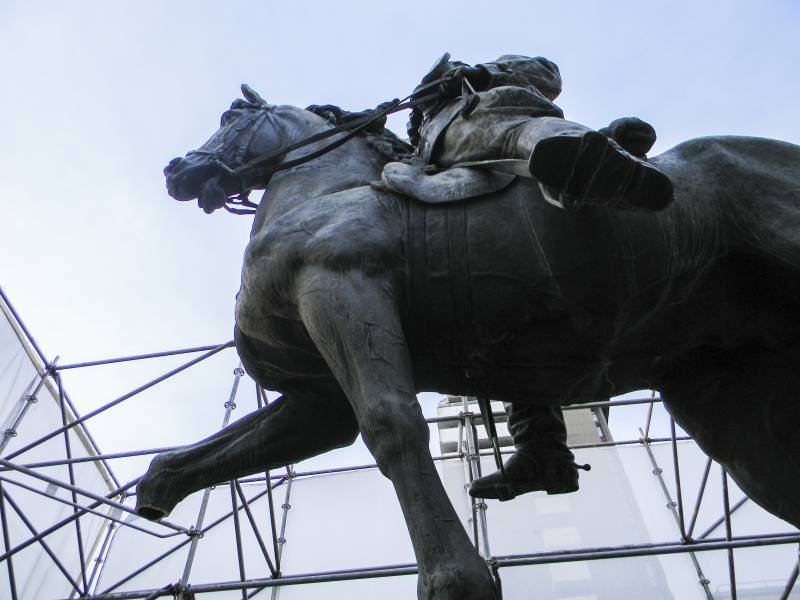 And a sign "executioner" on the neck at the monument to the liberator of Kiev from the fascists, General Vatutin from the same series. These wood lice from the national corps are thus trying to draw public attention ... to the war with Russia, which is now in full swing.
True, Vatutin is still worth it. And the flowers, as you see, appear at the monument. Not everything in Kiev got rid of the brain completely, there is such a thing.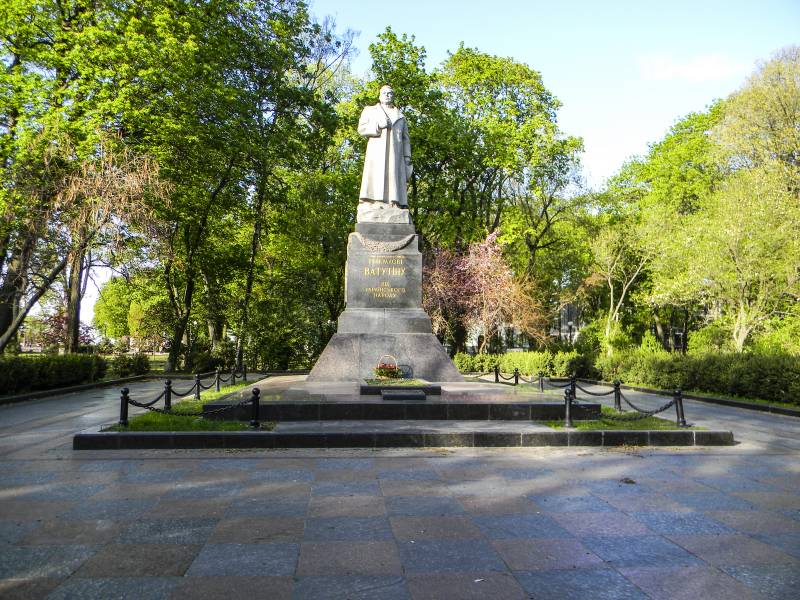 Recently heard the words of one person. Not a cockroach. Sorry, but I write without cuts. "Why are the buggers of International Women's Day? And the Nazis - Victory Day ...". You can't say better. Except for the Nazis, we still have a lot of normal people. And soon we will see them. 9 May. Natsik are afraid of us. Natsik fear our great-grandfathers. Even in the photo. And we are not afraid. Let's go and show.
Familiar faces? Here ... I do not know how long and how much "bye", but there is.
And to you in pursuit.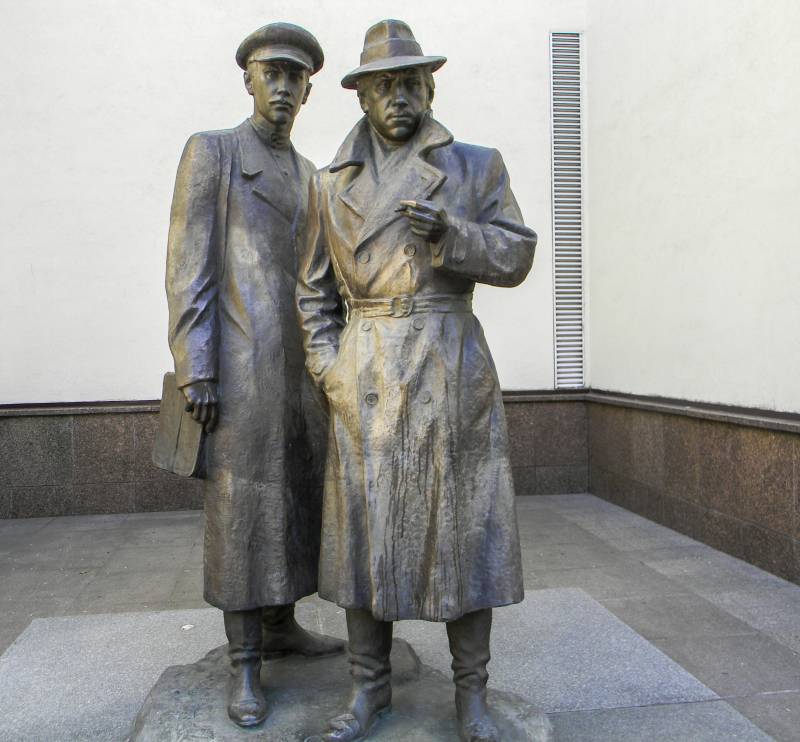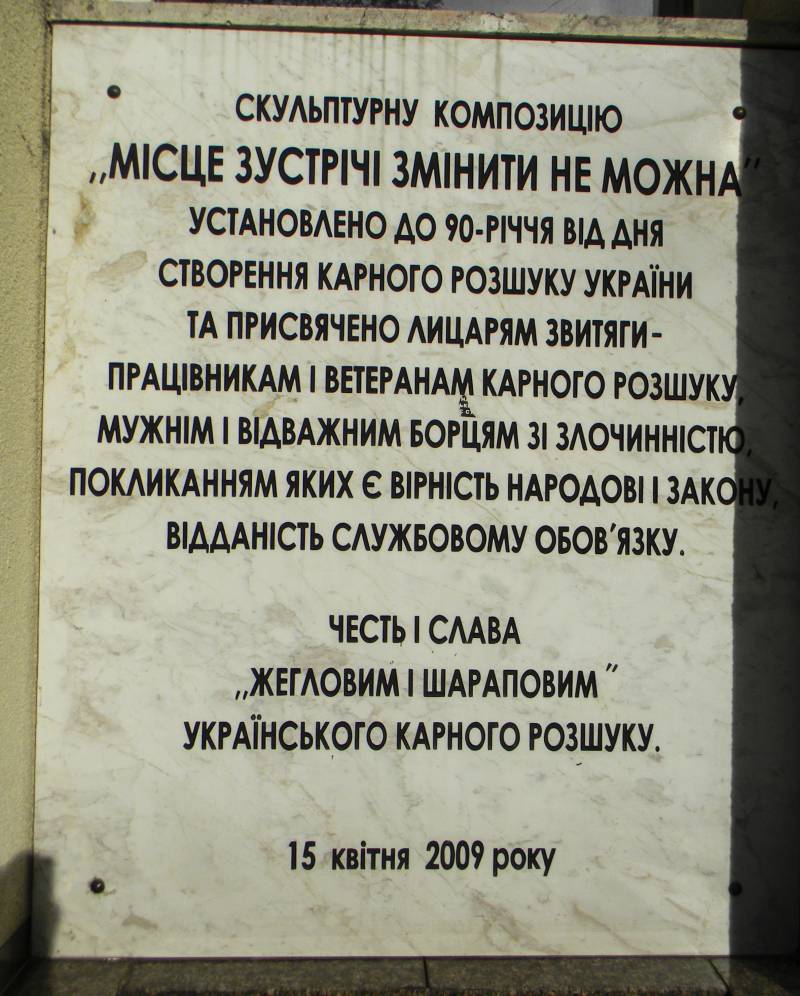 Also ours. That is yours. Ah, not enough now Gleb with Volodya ... But such is life.
Again have to remind you of the cockroach thinking. Forget the human and include normal, cockroach. What happens if 8 is split in half?
Did not understand my abrupt departure "in science"? And there was no care. And this is not a science, but an example. More precisely the answer to the further fate of my country. The big and "plump" eight (Ukraine) will never be a figure eight. She already shares. Crimea, Donbass. Next in line are Transcarpathia, Odessa, Kherson, Nikolaev, Kharkov ...
If we divide the eight vertically ... We get two triples. Even in total, these troechki less than eight. But at least something. And if horizontally? Divided? So what? Two zeros! From a beautiful, fat eight came two "nothing." Here is such a cockroach look at simple things ...
I can not go past my Odessa. I am sure that you are following with alarm the events in this city. Waiting for 2 May. You have written well about the fact that Odessans do not forget anything. And you saw the photo. Therefore, I will confine myself to reminding just one fact of the times of the Great Patriotic War ... This is also for those who understand everything and those who are fighting on the sofa in Moscow or in any other Russian city. And especially for those on whose conscience those one and a half hundred people who died then ...
Odessa is the only city in the USSR where no traitors were tried! Not because there were no traitors there. It was, and a lot. They did not judge because on the night when the Germans retreated, and the Soviet troops of the NKVD had not yet entered the city, the underground fighters and ordinary Odessans stifled all traitors and policemen. Everybody! A very significant historical example.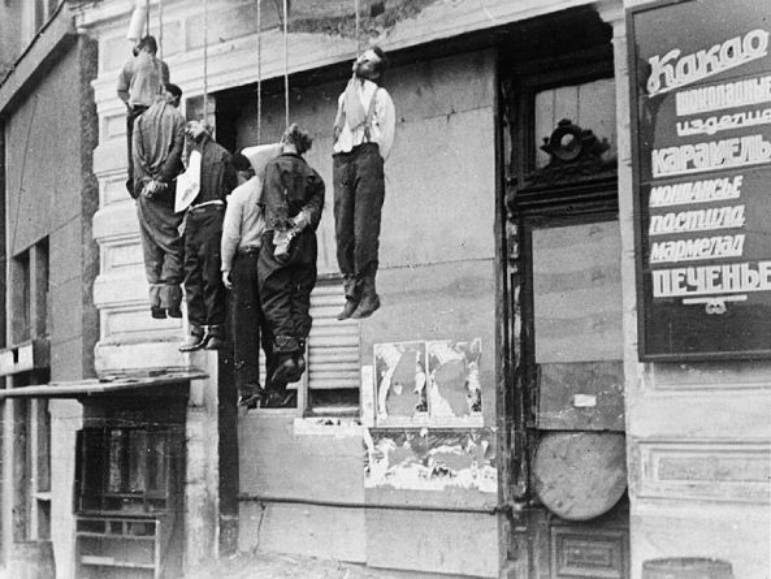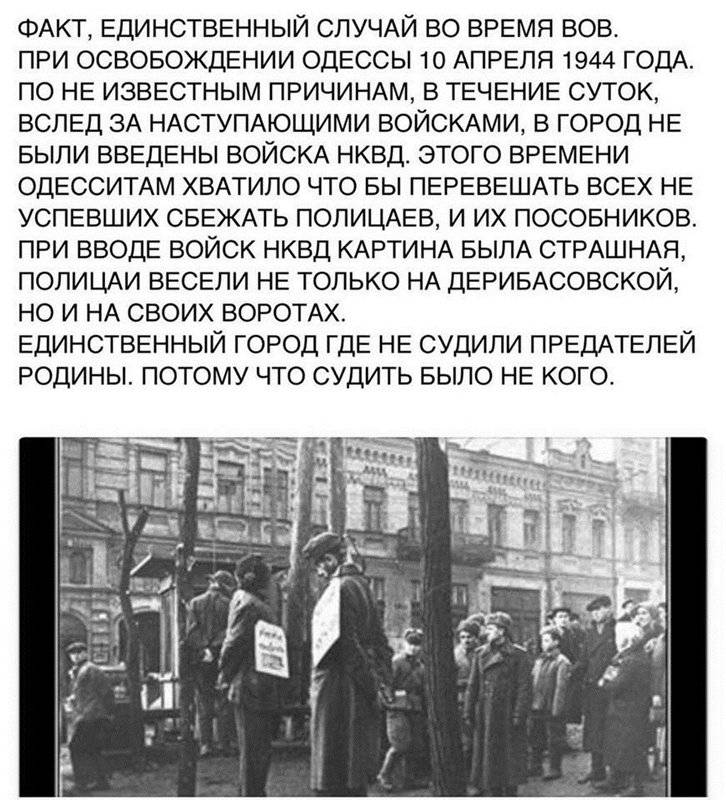 I always try to bypass the topic of Donbass. But today will not work. "Separatists" are preparing to violate the Minsk agreement! This is all over the media today. Imagine? Get ready and do not hide it. Do you know why? Yes Victory Day for them. Celebration! And the parade will be military. And the Immortal Regiment will be. And St. George ribbons will be. And the songs will be military. And most importantly, I and those like me will watch it! With no less attention than the Moscow parade ... It will be a parade for real Ukrainians. Our parade!
Oh, and rage now in the next building. Already the walls are shaking. The internet and all these satellite dishes are such a nasty thing. How well the Nazis of the last century lived in captured Kiev. Leaflets removed from the walls and all. It seems no one knows the truth. Therefore, they have launched one muck in the information space.
Deputy Minister of Defense of Ukraine Igor Pavlovsky made a statement about the readiness of the Armed Forces of Ukraine to go to martial law. Ready, they say, to defense and other tasks. Hints that the crap can throw for the holiday. It will probably sound strange, but God forbid Republicans to respond to our dirty tricks with dignity. Maybe it will return at least some adequacy of our power.
By the way, I also have news about the army. Remember the statements of all our leaders about the most powerful army in Europe? Everything. Not the most. Petro our said that we seem to be already on the 8 location in Europe.
And Donbass want our cockroach to say wisdom. True, it is not about us. Have you ever seen a cat that would be interested in what mice say about it? The APU is ready for the next receipt in the teeth of Republicans ...
No, it's necessary not only to write about the holiday. It is necessary and information for education to give you. And then they are completely fixated on Bandera and Shushevich. And here we have heroes ... I recently celebrated the 99 anniversary of the liberation of the city from the Bolsheviks by the colonel of the army of the Ukrainian People's Republic Peter Bolbochan in Kharkov! According to our history, Bolbochan was called the "iron colonel". He commanded the Zaporizhia Corps, which liberated Left-Bank Ukraine, Melitopol, Crimea in April of 1918, in April! Then the Ukrainian flag was raised in Sevastopol!
Did not know? Honestly and I did not know. Cockroaches have some other information. At the time of the campaign, this "colonel" could only be called "iron captain". Colonel gave him Petlyura only six months later. And about Simferopol a little lied. 25 April really captured the city. But almost immediately from there they were driven out by the true masters-Germans. And at the end of 1918, Bolbochan was removed by Petliura from command for embezzlement and sent to exile in Stanislav. In June, 1919 was shot at Balin station. There he was buried ... These are our new heroes.
But the old ones still stand. For example.
And for a snack, really good tolerant news. For people ... of unknown sex. There will be a gay parade in Kiev again! At the beginning of June. Last year, 2 was spoken about by thousands of "incomprehensible sexes." This year the number has increased in 2,5 times - 5 thousands! Geometric progression! In the next, it means there will be already 12,5 thousands. A year later, 31,25 thousand ... That's not for nothing, Kiev entered the top 10 of the cheapest capitals for sex tourism ... No wonder the arch is lovingly laid out with tiles.
The path to Europe through ... Straight poems themselves climb into my head.
"All the people are having fun! Who does not jump - he sings! Pravoseki, homosexual ... In general, who will sort them out ...".
Or an old song in a new way:
"Atas! So have fun, working class ... Atas! Dance boys, love everyone in a row! Atas! And who does not love everyone in a row, that jacket, enemy and colorad!"
Strange somehow happened. They promised to arrange a military parade in Sevastopol, and we already have the second gay parade in Kiev. I'll have to go see. Imagine gay shouting - "Glory to Ukraine!" And pravoseki in response - "Glory to the heroes!". Here is the joke. And try not to answer. Immediately become "separar".
We have to agree with our weather forecasters. "A rather strange spring" ... No one will make a more accurate forecast about Ukraine.
Happy holidays to you. Whatever happens in this life, the main thing is still at home. At the beginning of your own home. Then your city. Then the country. Smiles to you from all the big cockroach heart. You'd be surprised, but those modern artificial hearts that today are implanted in people are made in the likeness of our cockroach heart. This is your primitive 4-chamber "motor". And we have - 13-chamber. That's why we are so resilient. I told you about your education.
I hope to see you soon next. May sky to you!