Large anti-submarine ship (BOD) "Severomorsk" North
fleet
(SF) entered the Mediterranean Sea through the Strait of Gibraltar.
The passage of narrowness took place in the normal mode, the personnel of the BOD was on combat positions in accordance with the schedule. With the passage of Gibraltar, Russian sailors completed a roundabout of the African continent, reports
press office
Northern Fleet
The cruise of the shipyard Severomorsk and the support vessels of the Northern Fleet continues from October 15 2016. For three months the crew performed tasks as part of the ship-based aircraft carrier group led by the Admiral of the Soviet Union Kuznets fleet in the Mediterranean.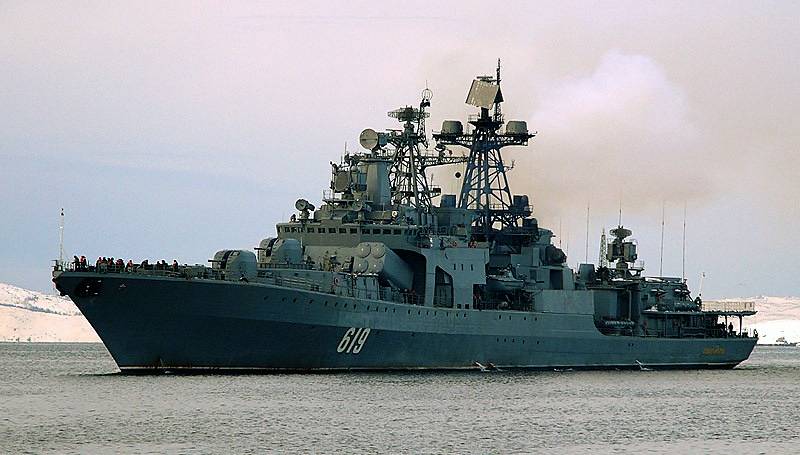 In the middle of January, Severomorsk began to carry out long-distance hike tasks, accompanied by SBS Altai and the Dubna SMT. Through the Suez Canal, Russian sailors made the transition to the Red Sea and then to the Indian Ocean.
From 9 to 15 February, the ship took part in the AMAN-2017 international naval exercise, which took place in the waters of the Arabian Sea and at the coastal base of the Pakistan Navy.
During the long hike, the crew of Severomorsk BOD visited 10 ports in Africa and Asia: Salalah (Oman), Karachi (Pakistan), Victoria (Seychelles), Dar es Salaam (Tanzania), Pemba (Mozambique), Cape Town (South Africa ), Walvis Bay (Namibia), Luanda (Angola), Malabo (Equatorial Guinea) and Praia (Cape Verde).