According to the blog
bmpd
, 25 On April 2017, the ceremony of launching and christening the landing amphibious assault ship AMR 156 Pisco under construction for the Peru Navy took place. This event was held at the enterprise of the Peruvian naval shipbuilding and ship repair association Servicio Industrial de la Marina de Guerra del Perú (SIMA) in Callao (SIMA Callao). Officially, the ship is classified as a "multipurpose ship" - Buque Multipropósito.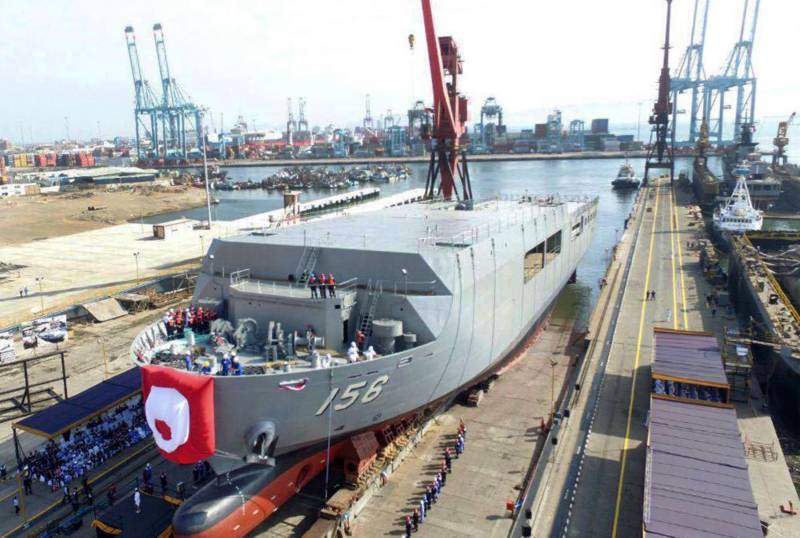 The ship is being built by SIMA under the project and with the assistance of the South Korean corporation Daewoo Shipbuilding & Marine Engineering (DSME) under a contract worth approximately $ 60 million. The ship is a further development of the Makassar-class amphibious assault dock ships built by DSME for Indonesia. It was planned to hand over two ships to the Peruvian Navy in 2015, but it was not possible to meet this deadline, since the actual construction was started only in the second half of 2014. Delivery of Pisco
the fleet
Now expected in August 2018. The contract for the construction of the second Paita ship has not yet been concluded.
Ships of this type are relatively small in size - the standard displacement is 7300 tons, and the total displacement is 11390 tons. The ship is 122 meters long, 22 meters wide and has a draft of 4,9 meters. The power plant consists of two MAN B&W 9L28 / 32A diesel engines with 3000 hp each, providing a speed of up to 16,5 knots. The cruising range is up to 14 thousand miles.
Two 23-meter landing craft LCU type are placed in a small docking chamber, and on the cargo deck up to 14 armored vehicles of the LAV II armored personnel carrier class. The ship has a flight deck with two landing pads for Sikorsky UH-3 / SH-3D class helicopters and a hangar for the permanent deployment of one such helicopter. The ship contains 157 crewmen (including 14 officers and personnel) and up to 400 marines. It is possible to use the ship as a supply vessel. In this case, it is designed for loading 636 tons of fuel, 600 tons of water, 360 cubic meters of dry goods and 136 cubic meters of food.
It is assumed that the armament will be represented by one 40-mm anti-aircraft artillery unit BAE Systems Mk 4, two Israeli 30-mm remote-controlled artillery units Rafael Typhoon and four 12,7-mm remote units Rafael Mini Typhoon.