Another act of vandalism against monuments to Soviet soldiers took place in Kiev. At this time, the radicals desecrated the monument to General Nikolai Vatutin - one of the generals of the Great Patriotic War. General Vatutin commanded the 1-th Ukrainian Front, liberating Kiev from the Nazi invaders. Apparently, the liberation of the capital of the Ukrainian SSR from the fascists and today causes outrage among the Ukrainian radicals.
General Vatutin died in February 1944, when the car in which he was in, came under fire from the Bandera gang.
Representatives of the so-called "national corps" - a group that has declared itself a Ukrainian political party — proudly told about the desecration of the monument to an outstanding military leader of the Great Patriotic War.
A sign was attached to the monument with the words "Executioner liquidated by Ukrainian nationalists". From the statement of the neo-Nazi speaker from the "national corps" Nazar Kravchenko:
We hung this sign to let people know that this is indeed the hangman. And no matter what the police claimed, there is a process of de-communization.
Desecration of the monument in Kiev took place with complete inaction on the part of local law enforcement officers.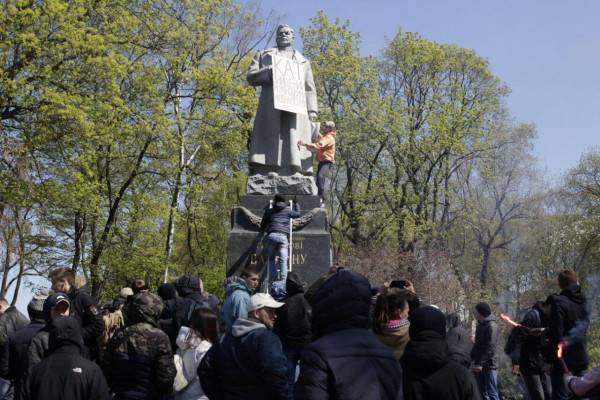 A few hours after the action of the radicals, when they went home, the ridiculous sign from the monument to the legendary commander was removed.