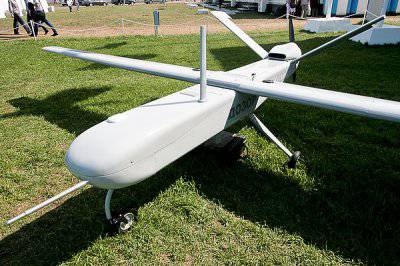 According to Lenta.ru from 14 February 2012, before the end of 2012, the Russian Federation's first assault unmanned aerial vehicle will be tested in the Russian Federation. The chief of the General Staff of the Armed Forces of Russia, N. Makarov, said: "We will begin to test the middle-class drone in the shock version at the end of this year." About what device will be tested, it was not specified.
In October last year, the Ministry of Defense of the Russian Federation concluded contracts for research and development work with the Kazan Falcon Design Bureau and the Transas company in St. Petersburg. The cost of the agreements amounted to about 3 billion rubles. Within the framework of the projects, it is planned to build reconnaissance and attack drones, respectively, weighing about 1 tons and up to 5 tons.
As the vice president of Transas, V. Godunov, said, the company concluded an agreement on strategic partnership with Sokol Design Bureau. The two companies will build drones jointly. Transas will develop control systems and on-board electronics, and Sokol will directly build UAVs and ground complexes for them. Both vehicles, according to plans, will make the first flights in 2014. With 2015, it is planned to begin their flight tests.
In January, 2010 reported that Tupolev was developing a medium-range UAV project. It is based in part on a reconnaissance-strike complex with a Tu-300 apparatus. (Technical details were not specified). In 2007, the OKB "Klimov" and "MiG" presented the shock drone Scat, which was created using stealth technology. Now this project is closed, but its achievements will be applied in projects of promising UAVs.
The Transas company is the developer of the Dozor-600 drone. This drone can be used as a shock or reconnaissance vehicle. For the first time, a UAV was shown to the public at the Max-2009 air show. His trials were scheduled to begin in 2010, and since then there has been no information about this project.