Some participants of the conference "Supporting the Future of Syria and the Region" in Brussels tried to replace the forum's agenda and focus on the incident with chemical weapons in Idlib, focusing on the accusation of official Damascus, reports
Interfax
Post by Deputy Foreign Minister Gennady Gatilova.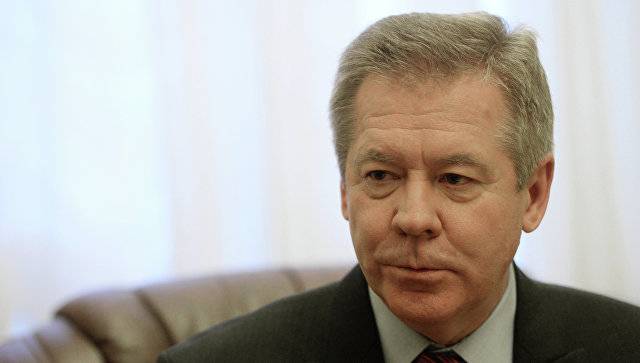 I must say that they did not succeed. And only a few, the most zealous, tried to immediately blame the Syrian government for blaming the use of chemical weapons, that is, knowingly to lay the blame on Damascus. But this idea did not receive wide support,
Gatilov told reporters on Wednesday.
He noted that "this topic was present in the speeches," but mostly they said that it was necessary to "objectively understand what had happened."
"For the rest of the conference, I must say that everyone was in favor of a political decision. Most said that there could be no military solution. Everyone practically welcomed the Astana process and said that it was a very good help for the Geneva talks. In this regard, the role of Russia as one of the initiators and guarantors of the preservation of the cease-fire regime was positively evaluated, "the deputy minister continued.
Of course, pointed out the dire humanitarian situation of the Syrian population. Neighboring countries were especially worried about this, because they were the first to experience all the difficulties of the presence of a large number of refugees on their territory. We stated that we need to think how to help the population with practical means. The fact that it is not necessary to be adherents of the theory, according to which reconstruction and restoration can be carried out only after peace and stability are established in the country, and you need to think about it now,
he said.
The Russian side proposed to pay serious attention to the issues of demining and to organize wide international solidarity and cooperation in this sphere.
According to Gatilov, "certain developments already exist with the UN organizations that deal with these issues." There is also a desire on the part of some other countries to contribute to this matter.
We are for the fact that humanitarian problems are not used on the political agenda and for political purposes, because, unfortunately, this trend on the part of some of our colleagues is traced. There should be no desire to use the problems of the Syrian people to put pressure on the Syrian government for the purposes they need,
explained the deputy minister.
There should be no double standards in the provision of humanitarian aid, he said.