Today, the press service of the President of Azerbaijan
spread the message
on the appointment of the first head of state's spouse to the post of the country's first vice-president. Speech about Mehriban Aliyeva. From the decree of President Ilham Aliyev:
Guided by part 1 of Article 103 of the Constitution of the Republic of Azerbaijan, I decree:
Appoint Mehriban Arif gizi Aliyeva as first vice-president of the Republic of Azerbaijan.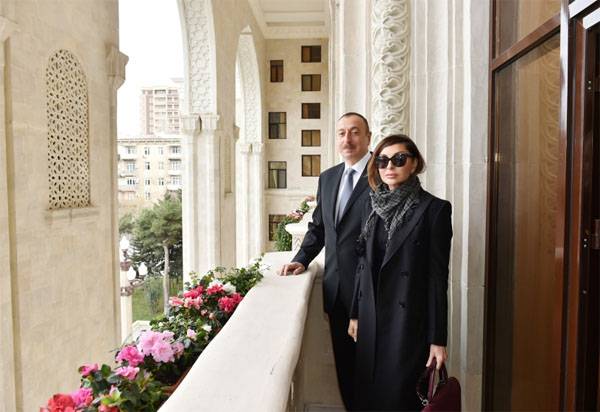 It should be noted that the posts of vice president and first vice president so far have not been in the state hierarchy of Azerbaijan. They appeared on the basis of the results of the referendum held last fall. During the same referendum, citizens were asked a question about supporting the increase in the term of presidential powers from 5 to 7 years, as well as lowering the age limit for candidates for deputies of the national parliament. Plebiscite showed that the citizens of Azerbaijan supported all initiatives.
An assistant to the President of Azerbaijan said that the new positions (Vice-President and First Vice-President) "will help the country to move to the post-oil period." It is noted that "this is necessary in the face of falling revenues from the sale of oil."
At the same time, the administration of President Aliyev added that Mehriban Aliyeva "plays an important role in cultural and international activities." That is why, as Ilham Aliyev himself stated, he decided to appoint his wife to the post of first vice-president of Azerbaijan.
For reference: Mehriban Aliyeva 52 of the year. Her father is the president of the Academy of Sciences of Azerbaijan. He holds a diploma from the First Moscow State Medical University (1988 year). Mehriban Aliyeva is the president of the Heydar Aliyev Foundation.